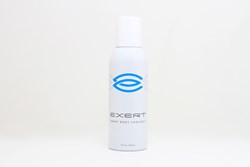 Whether at home, the office, or anywhere, Exert works when needed.
(PRWEB) January 28, 2014
Sitting at a desk at work or meeting in a conference room are two of the worst times to endure a hot flash. A small amount of sweating can be passed off as purely stress-induced when facing a deadline or when in a heated discussion. But a full-blown hot flash at work is impossible to hide and can become incredibly embarrassing. Exert Co.'s recent launch, Exert Smart Body Coolant, cools the skin, saving the embarrassment from hot flashes at work or anywhere.
Christopher Joyce, CEO of Exert Co. states that, "whether at home, the office, or anywhere, Exert works when needed." This announcement was welcomed news to approximately 27 million women in the U.S. who have hot flashes or experience night sweats with an expected growth of 10 percent annually.
Exert gets sprayed once on the body and activates only when there is a skin temperature spike. Exert doesn't feel cold when applied but instead works by drawing heat away from the body only when the body needs it. When skin temperature rises, Exert activates and cools the skin by 2 to 6 degrees. When body temperature drops to normal, Exert recharges and is ready to cool again without the need to reapply. Arvind Rao, Chief Innovation Officer of Exert Co. explains the technology of Exert by noting that, "after cooling, Exert recharges quickly and is ready when your skin temperature rises again." Exert lasts all day, even if the average work day is only 8 hours.
The technology behind the Exert effect is supported by a study published in the Annals New York Academy of Sciences. Women were tested in cold climates and hot climates when experiencing a hot flash. The duration and severity of the hot flash was then measured. Kronenberg and Barnard found that women who experienced a hot flash in a colder climate felt it less than half the time of a woman in a hotter climate. Exert helps move heat away rapidly and cools the skin.
Hot flashes are incredibly annoying at all times, especially when at work. There is no longer a need to hide behind a cubicle's walls or in an office when a hot flash strikes. Exert helps keeps one cool throughout the day when in the face of a deadline, a meeting, or a hot flash.
A 4 to 6-week supply of Exert Smart Body Coolant retails for $30. To learn more about Exert Smart Body Coolant visit http://exertco.com or call 877-929-9922.