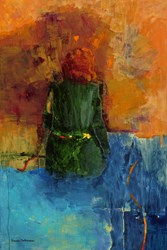 This fabulous exhibit will feature 58-artists from 15 different states.
Tubac, Arizona (PRWEB) January 30, 2014
Arizona Aqueous, now in its twenty-eighth year at Tubac Center of the Arts is a nationally juried exhibit of artwork consisting of water based pigments on paper. Seventy-one works of art were selected by artist/juror, Judy Morris of Beaverton, Oregon. Fifty-eight artists from fifteen different states will be represented in the exhibit. The opening reception is scheduled for Friday, February 7, 2014 with appetizers generously donated by our exhibit sponsor, Shelby's Bistro of Tubac.
About Tubac Center of the Arts
Tubac Center of the Arts is the core of Tubac's artistic heritage. TCA is a non-profit member supported art center with rotating art exhibitions, art workshops and education programs for both adults and youth, a performing arts series, a gallery gift shop and a number of special events throughout the season. Tubac Center of the Arts is located at 9 Plaza Road, in the historic artist community of Tubac, AZ, about 40 miles south of Tucson and 17 miles north of Nogales off Interstate 19. Nestled in the Santa Cruz River Valley between the Tumacacori, Santa Rita and San Cayetano Mountains, Tubac offers much to its visitors - recreation, lodging, restaurants, galleries, artists' studios, the Tubac Presidio State Historic Park, and the Tumacacori National Historical Monument.
Hours: Monday - Saturday, 10:00 a.m. - 4:30 p.m., Sundays, 12:00 - 4:30 p.m.
Admission: Free; for more information on exhibitions, classes, programs and membership, please call 520-398-2371 or visit http://www.TubacArts.org.