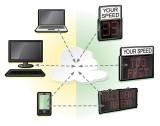 "Our current and future customers have exclusive access to the SmartApp capabilities. And participants in our TraffiCloud Ecosystem will get the benefit of this patent coverage, states Ted."
State College, PA (PRWEB) January 30, 2014
All Traffic Solutions has been awarded US Patent 8,417,442 for its cloud-based traffic data collection technology. Invented by CEO, Scott Johnson, President, Ted Graef and Sr. Software Engineer, Jason Geiger, the technology uses connected sensors to collect traffic data and transmit this data to a centralized database letting users generate relevant reports using the Internet.
Key capabilities that are protected under this patent include:

Collecting traffic data (such as vehicle counts, vehicle speeds, average speeds and congestion indicators) from a network of roadside sensors, transmitting the data to the Cloud, filtering the data and generating reports on the passing vehicles.
Automatically generating such reports and sending them to selected recipients.
Receiving automatic notifications of radar failure due to inconsistencies in the speed data by selected recipients.
Configuring a sensor device settings for a particular location automatically using settings saved for this location in the Cloud.
Generating alerts for conditions from specific locations given thresholds set for that condition and location in the Cloud.
Since All Traffic's industry-leading SmartApps leverages this patented technology to deliver unique cloud-based management features and functionality, our current and future customers will have exclusive access to these capabilities. Participants in our TraffiCloud Ecosystem will get the benefit of this patent coverage.
For more information on licensing consideration, contact tgraef(at)alltrafficsolutions(dot)com.
About All Traffic Solutions
Located in State College, PA., All Traffic Solutions is consistently recognized as a leading innovator in the traffic safety market for speed displays, message signs and imaging products, delivering groundbreaking levels of service and product capability. By integrating cloud technology into all of its products, All Traffic Solutions allows customers to manage all their equipment and data remotely, through a browser. For more information, please visit http://www.AllTrafficSolutions.com.