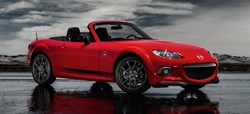 Every summer there is an event known as the Bay to Beach event which Preston Mazda sponsors
Hurlock, Maryland (PRWEB) January 28, 2014
Miata Owners on Delmarva otherwise known as M.O.O.D is a club in which Miata owners get together and take road trips to new places. Every summer there is an event known as the Bay to Beach event which Preston Mazda sponsors every year. Their motto is "Growing old is mandatory, Growing up is optional". The Bay to Beach event goes from Pocomoke City to Ocean City, Maryland. Once the Miata owners have reached Ocean City, Maryland, the town opens up the boardwalk so that The Miata Owners on Delmarva can drive their Miatas down the Ocean City Boardwalk. Many of the Miata Owners love to travel and often love stopping at well-known restaurants to eat. They have monthly meetings every third Saturday of each month. The purpose of this organization is to promote goodwill for the overall benefit of the club members and all the communities on Delmarva. It provides social, recreational, technical and instructional activities for the preservation and enjoyment of the Mazda Miata MX-5 vehicle.
Preston Mazda thinks many features on this vehicle are what makes it so special. The Mazda MX-5 is one of the few production cars to have its own race series. The Mazda Miata MX-5 is the perfect car for a race car enthusiast. It allows the customer to speak freely with its Bluetooth feature. This is a hands-free system with voice command which makes receiving calls as easy as the push of a button. Simply select a button on the steering wheel and say hello. The cabin was specifically designed to revolve around the driver. Mazda strategically positioned the pedals to provide quick heel and toe action and even used electromyograms and other sensors to determine the ideal location for the shift lever. There are four different packages to choose from on the Mazda Miata MX-5. The first package is the convenience package this includes things such as remote keyless entry, cruise control, silver seatback bar accents, trip computer and many more. The Premium Package features Mazda's advanced keyless entry and start entry, SiriusXM Satellite Radio, anti-theft alarm and much more. Appearance Package has a front air dam and rear underskirt. The last available package is the Suspension Package which includes Sport Tuned suspension, Bilstein shock absorbers, and limited slip differential.
At Preston Mazda there is great selection of all new 2014 Mazda Miatas. The Miata was ranked #1 in affordable sports car and also #1 in affordable convertibles by the U.S. News. Preston Mazda strongly agrees with this ranking which is why they carry such a great selection of the Mazda Miatas in all different colors and trim levels. Finding a new Miata to fit a customer's need will not be a problem.