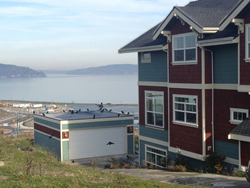 Irvine, CA (PRWEB) March 12, 2014
Bird-B-Gone's bird spikes are designed to keep birds from landing and roosting on unwanted areas. One residential customer recently reported birds ruining his property, making his outdoor seating areas, "gross and useless." After installing Bird-B-Gone's plastic bird spikes on his roofline, the customer reported being amused when he came home and found the birds were no longer on his roof, but had moved to his untreated garage [pictured].
Bird spikes are an ideal bird control solution for commercial and now residential settings as well. "Birds don't know the difference from residential and commercial buildings. They will seek out the best location to land in a particular area in order to see potential food or predators in the area," says Scott Swanson, Bird Control Engineer at Bird-B-Gone. "Our bird spikes have been helping solve pest bird problems for over 20 years and we're always grateful when customers write to let us know our bird spikes saved the day," says Swanson.
Bird Spikes are physical bird deterrents used to humanely block large birds from landing. Bird Spikes are not designed to harm birds. They simply create an uneven surface that birds cannot land on. Bird Spikes are designed for large birds such as pigeons, crows, and gulls and are ideal for preventing birds from landing on window sills, roof lines, ledges, beams, fences, under eaves and other areas. Bird-B-Gone's bird spikes carry industry leading guarantees and are made in the USA. The spikes are available in stainless steel or rigid U.V. protected, sun and weather proof polycarbonate (plastic). Bird spikes are easy to install and can be glued, screwed, or tied down to most surfaces.
About Bird-B-Gone:
Bird-B-Gone is the world's largest manufacturer and distributor of bird control products, providing effective and humane solutions to a bird-free environment. Since 1992, Bird-B-Gone products have helped solve pest bird problems in commercial, industrial and residential settings across the globe. Bird-B-Gone proudly manufactures their products in the USA ensuring they meet the highest quality standards in the industry.
###