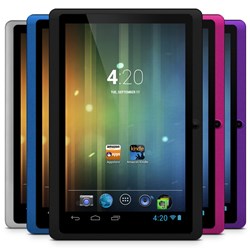 You still have a chance to win.
Walnut, CA (PRWEB) January 28, 2014
Technology in telecommunication is increasing at a rapid speed. At every turn of the day, you will find new developments in the mobile software, introduction of a new app or coming up of a novel cell phone accessory. If you belong to today's 'Y' generation and wish to stay in touch with the latest in cell phones and electronic gadgets, then you should be aware of what is the latest in this industry. One of the ways of doing so is visiting the online stores that offer the latest products and accessories in this field. Accessorytree.com is one such online store that along with providing you all types of highly updated cell phones, accessories also helps you buy them at comparatively lower price than the market through their regular contests. Through the accessorytree giveaway, you stand a chance to win some fantastic electronics product such as cell phones, accessories, tablets, Smartphones and more.
About AccessoryTree
AccessoryTree.com is located in Southern California and started as an online retailer two years back. The store has managed to establish one of the best serving establishments online. You will find more than 5000 mobile phones and related electronics goods on this site. The web-store strives to give you the joy of offline shopping by displaying all the products with their images and descriptions. This one stop electronic shop for accessories has experienced webmasters on their board to ensure round the clock and smooth, hassle-free service to all its customers. With their regular giveaway packages, you are bound to earn some fantastic reward with one of your purchase soon.
Products available on AccessoryTree
The web-store stocks all types of accessories from international brands of high quality. At this store, you will find accessories of major brands including Amazon, Apple, Casio, Blackberry, Alcatel, Motorola, LG, Coolpad, Samsung, Nokia, HTC, Sony, ZTE and more. The accessories include cell phone cases, Hands free headset along with stereo earphones, USB Outlet Wall Charger, Wireless Blue Tooth Speaker and more.
Giveaway contest
The web-store offers lot of accessorytree giveaway through their various contests. Currently the store is giving away an Ematic 7" Android Tablet. The contest is only for the month of January and will end on January 29. So, if want to be in touch with the latest in the cell phone accessories and also would like to win rewards on your purchase, visit AccessoryTree.com this January and be a part of the contest.