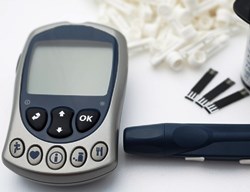 Glucose Monitoring Device Market to 2019 - Technology Adoption and Increasing Health Awareness Serve as Distinct Regional Growth Drivers
California, United States (PRWEB) January 31, 2014
Reportstack has announced a new market research report on Glucose Monitoring Device Market to 2019 - Technology Adoption and Increasing Health Awareness Serve as Distinct Regional Growth Drivers which forecasts that the global glucose monitoring devices market value will experience a moderate increase from $9.9 billion in 2012 to $13.7 billion by 2019, at a Compound Annual Growth Rate (CAGR) of 5%. According to the company's latest report emerging countries, such as China and India, show the most potential for market growth, as they have the largest diabetic populations consisting of 92 million and 63 million people, respectively.
In fact, the Asia-Pacific market for glucose monitoring is expected to double from $1.5 billion in 2012 to $3 billion by 2019, at a CAGR of 10%. Still, the US and Europe will continue to lead this setting by 2019, with shares of 34% and 40%, respectively. The key players analyzed in this report are F. Hoffmann-La Roche, LifeScan, Bayer Healthcare, Abbott Laboratories and Arkay.
An Analyst for GBI Research says: "Rapid urbanization and changes in lifestyle habits have made people in developing countries especially vulnerable to disorders such as diabetes. However, poor healthcare infrastructure, urban-rural disparity and a lack of skilled healthcare professionals have previously limited the adoption and use of devices for the prevention and treatment of diabetes in these markets." The market research expects the increasing awareness of the importance of glucose monitoring, along with technical innovations minimizing the blood required for glucose testing, to drive the adoption of such devices in the Asia-Pacific region during the forecast period.
"One of the key technological developments in the diabetes care industry is Continuous Glucose Monitoring (CGM), which helps patients to measure glucose levels regularly, unlike traditional devices. CGM devices are programmed to alert users to low or high glucose levels, allowing for timely medication and reducing any risk of associated complications due to undesired changes in glycemic levels." With diabetes becoming an increasingly major burden globally, early detection through regular monitoring can improve the control and treatment of the disease.
Other Medical Devices Industry Reports from Reportstack:
Patient Monitoring Devices Market to 2019 - Increasing Investment in Healthcare Infrastructure in Emerging Economies Provides Significant Opportunity for Future Growth
Pressure Relief Devices Market to 2019 - Increasing Focus on Pressure Ulcer Prevention and Quality of Care to Drive Growth
Global Artherectomy and Thrombectomy Devices Market 2014-2018
About Reportstack:
Reportstack is one of the largest online libraries of market research publications. At Reportstack, users can find top-level research products from the leading publishers at one place. The best in practice web technology implemented by Reportstack enhances overall user experience and changes the way people buy research reports online. The market coverage spans across multiple verticals including but not limited to: Pharma & Healthcare, Automotive & Transport, Manufacturing & Industry, Travel & Lifestyle, Computer & IT, Sustainable Technology, Banking & Finance, Consumer Retail, Consumer Packaged Goods, Internet, Electronics & Security and Telecom.