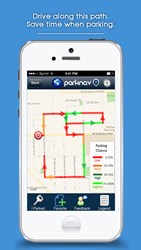 Parknav uses big data to save you time, energy and money when looking for parking
Chicago, Illinois (PRWEB) January 29, 2014
Faspark today announced that it has secured an investment from YOU IS NOW, the startup incubator of Scout24 group whereof Deutsche Telekom holds a stake. Additionally, Faspark also announced that it has rebranded under the name Parknav. Parknav will use the new funds to accelerate product development and further expand its service area into new cities across the United States and Europe.
Parknav (formerly known as Faspark) is a parking app which helps drivers in the pilot regions Chicago and Munich save time, energy and money when searching for parking. Parknav's users can select between free, paid, permit and garage parking in Chicago and also in Munich. Over the last six months, Parknav has expanded its parking app features to include such offerings as turn-by-turn street parking navigation and deeply discounted parking in parking lots throughout Chicago.
"We are very excited about the investment and the great support we receive from Scout24" said Eyal Amir, President and CEO of Parknav. "Scout24's investment will reinforce and help us achieve our goal of creating the most comprehensive parking solution for drivers who want to save time when looking for parking in urban areas in the United States and Europe. Our new name represents best the simple navigation-to-parking solution that is so unique for our service."
"We are very pleased to welcome Parknav to our YOU IS NOW incubator program. With the resources and network of Scout24 we can ideally support Parknav's next steps toward scaling the already proven technology into new geographies", said Stefan Lemper, Head of Incubation of Scout24. "With the strength of our market place AutoScout24 among European car owners we can in particular add value for the next phase.
About Parknav (formerly known as Faspark)
Parknav was originally co-founded by Stanford University alumnus and University of Illinois at Urbana-Champaign Professor Eyal Amir along with Argonne and UBS alumnus Sergei Kozyrenko. Since the initial release of the mobile app version of Parknav (under the Faspark name) in 2011, the app's user-base has grown to over 25,000 users throughout Chicago and Munich. Utilizing its proprietary data resources, Parknav plans to expand its parking solution to all major urban hubs throughout the United States and Europe.
For more information on the company visit: http://www.parknav.com
About YOU IS NOW / Scout24
YOU IS NOW is the startup incubator of Scout24. At YOU IS NOW startups and entrepreneurs benefit from the know-how, resources and reach of one of the leading corporate groups of online market places in Europe. The six market places of the Scout24 Group, ImmobilienScout24, AutoScout24, FriendScout24, FinanceScout24, JobScout24 and TravelScout24 are represented in 22 countries. As a strong partner, Scout24 supports its customers in important decisions, especially the lifestyle areas of living, mobility, partnership and finances. Around 13 million internet users per month trust in the offers of the Scout24 Group. You can find more information at http://www.scout24.com.
For more information on the company visit: http://www.youisnow.com and http://www.scout24.com
For more information contact:
Gerhard Boiciuc
Parknav
contact(at)parknav(dot)com
(312) 505-5356