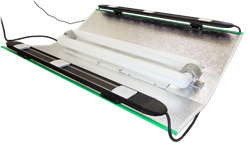 Entering the bloom arena was the primary product development goal for Smart Grow Lamps during 2013. Hybrid Garden Grow Lights test results during bloom and flowering showed increased yields on average 20-25% times higher." Jeff Langley, CTO
(PRWEB) January 29, 2014
Smart Grow Lamps induction grow lighting technology has proven to be the most energy efficient, longest lasting, low heat grow light choice for agriculture operations. The team at Smart Grow Lamps was not satisfied. Smart Grow Lamps challenged ourselves with the problem of getting an Induction Grow Light to Bloom and Flower Better- in short, to focus on bloom lights. After extensive R&D throughout 2013 to improve the PAR spectrum (Photosynthetic Active Radiation range that plants need to flower. Smart Grow Lamps tested three induction lamp custom phosphor spectrums, including a custom dual spectrum blend to boost the flowering. Smart Grow Lamps determined that the substantial lumen loss from the increased red phosphor coatings needed to adjust spectrums for bloom was counterproductive. The answer: Hybrid Garden Grow Lights- Supplementing Induction lamps with Red/Magenta PAR light via LED grow lights.
"By focusing on the spectrum strengths of induction (blue and green blends), and adding LED (bloom specific spectrum), Smart Grow Lamps created the perfect blend without sacrificing lumens." Darrin Dow - Smart Grow Lamps CEO
The hybrid lighting solution: Working with the strength of the induction PAR Spectrum, and supplementing the deficiencies with LED grow lights - primarily on the red side between 620-680 nm range - offers the ultimate bloom light mix.
After the extensive R&D process, the design process was next. Adjustable magnetic rails were added to the reflective hood, which allows users to customize the grow spectrum using LED Grow Pucks. Now, whether you're interested in growing plants indoors with grow lights, hydroponic grow lights, greenhouse grow lights, or simply plant lights indoors in general, Smart Grow Lamps Hybrid LED/Induction Garden Grow Lights are the best choice.
Magnetic heat sink rails allow the user to mix max LED Grow Pucks, with up to eight easily snapped into position for optimal performance.
Each LED Grow Puck uses a custom phosphor formula to create unique PAR lighting spectrums. Growers can choose from two custom PAR spectrums. Smart Grow Lamps LED Grow Pucks available in E3 Max Bloom and E1 Dual Spectrum. This new led phosphor technology is much more beneficial than traditional LED's which are limited to color specific diodes.
Smart Grow Lamps 'Hybrid Garden Grow Lights' are available in both 500 watt and 400 watt Induction Garden Lights, over sized reflector and ballast systems paired with 65 watt LED drivers powering 6-8 LED Grow Pucks in two color spectrum options. Want to enhance your current grow room's bloom light? LED Pro Rails and E1 and E2 LED Grow Pucks can also be purchased separately, and come with a mounting system for horizontal or vertical applications, and suspension straps that easily fit into any grow light system.
Advantages of Induction and LED lighting technology: Low Energy, Low Heat, and Easy to Use (Just Snap in Place). Plus, Long lasting lamps and LED diodes reduce lamp replacement costs for 5+ years longer than traditional grow lights such as High Pressure Sodium (HID) and Metal Halide. Imagine little to no lamp maintenance and changing grow cycles by swapping in and out LED Grow Pucks. It is that easy.
Understanding Plant Lighting: Hybrid Garden Grow Lights offer growers the perfect 12 band spectrum of Photosynthetic Active Radiation (PAR) wavelengths that plants need to thrive in. The combination of full spectrum induction lamps with LED bloom specific grow pucks provides the perfect blend of plant light.
Hybrid Garden Grow Lights maximize light spectrum spectral bands between 440-500nm (nm= nanometers) on the blue side of the electromagnetic spectrum, and between 620-680nm on the red side of the spectrum. Focusing light intensity in these two zones of the overall spectral range offers peak photosynthesis for chlorophyll a and chlorophyll b light absorbance. Generally, the vegetative phase occurs in the blue range, and peak photosynthesis during the flowering phase occurs on the red side. In addition, Hybrid Garden Grow Lights overall spectrum also offers coverage in the 510-610nm green light range as plants readily use 80-90% of green light - which is absorbed deeply by carotenoids - which maximizes yields.
With the introduction of new Hybrid Garden Grow Lights, Induction Lighting technology is now paired with cutting edge new LED technology for enhanced bloom and flowering.
If you're wondering how to grow both fruit and vegetables indoors with grow lights, or wondering "where can I buy grow lights?", or even if you already know all about growing using lights, induction grow lamps, LED lamps, and hydroponic growing lights- check out our website below.