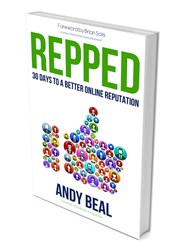 This book could put reputation firms out of business!
Raleigh, NC (PRWEB) February 04, 2014
Andy Beal's new book, Repped: 30 Days to a Better Online Reputation, is so detailed and actionable, it has reputation management firms worried. While they charge thousands of dollars to help individuals and companies build and protect their online reputation, Repped offers the same for just $12.99.
Packed with case studies and practical advice, Repped provides a step-by-step guide that anyone can implement in just 30 days. Author Andy Beal explains, "This book could put reputation firms out of business. I've opened up my entire playbook on reputation management and demonstrate how to build a stellar personal or corporate reputation."
Repped is Beal's second book, following up the critically-acclaimed Radically Transparent. A great reputation is invaluable, and at just $12.99 for the print version, and only $6.99 for the Kindle, Repped could offer the best return on investment of any book published.
Repped is available immediately from Amazon, Barnes & Noble and all book stores. For more information and to order your copy, head to http://www.ReppedBook.com.
About Andy Beal
Andy Beal is the world's leading authority on online reputation management. He has spoken at dozens of conferences around the world, including USA, Canada, England, Australia and New Zealand. A trusted source for reputation management advice, Andy Beal has appeared on major TV networks, public radio, and is often quoted in print publications such as USA Today, Inc. Magazine, and The New York Times. His first book, Radically Transparent: Monitoring and Managing Reputations Online was the first complete guide to online reputation management. For more information, visit http://www.AndyBeal.com.