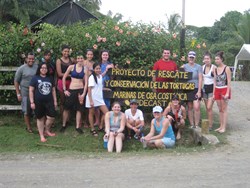 Dobbs Ferry, N.Y. (PRWEB) January 30, 2014
Fourteen Mercy College students have just returned from the Sea Turtle Research and Rehabilitation Center on the remote Osa Peninsula of Costa Rica. The students were led on the exciting mission by Mercy's Dr. Sabrina Timperman and Dr. Lisa Schenkel, two Veterinary Technology Program faculty members. During their time there they assisted the Latin American Sea Turtles organization in helping to preserve the species. Their work included catching, restraining and transporting turtles, taking measurements and samples, tagging the turtles, assessing their health, and releasing or transporting them to the rehabilitation center. They also cared for injured turtles in the rehabilitation center and were involved in studying and supporting the ecosystem upon which the turtles depend.
The trip immersed the students in a foreign culture and provided them with a glimpse of a different way of life. Many of the students are already planning to return to continue their work helping to save this species, while others look forward to other global experiences.
About Mercy College
Founded in 1950, Mercy College is a private, not-for-profit higher education institution that offers more than 90 undergraduate and graduate programs within five prestigious schools: Business, Education, Health and Natural Sciences, Liberal Arts and Social and Behavioral Sciences. Mercy College offers an engaging and personalized learning experience that includes the College's revolutionary Personalized Achievement Contract (PACT) program. The Mercy College PACT is the first program of its kind and now serves as a nationally recognized model for mentoring. http://www.mercy.edu 877-MERCY-GO.
###