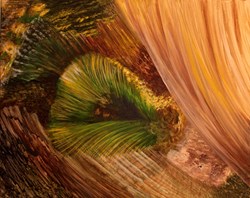 In search of infinity below my feet.
Santa Clara, CA (PRWEB) January 31, 2014
Wall art has been used by humans in different forms from the time of the "cave art " to the modern times of street art and Graffiti art. The new arts program are displaying various artists under the Project wall to bring out the sheer diversity of artists' voices in the American diaspora today. Sujata Tibrewala is proud to be part of this project and to get to feature her eco-feminist art work "Earthy Depths," "Fire Forward," "Which one of these is me," "Reds" and "Empty Vessel."
Tibrewala's art work displayed here celebrate the unfathomable challenges women are taking upon their shoulders (Fire forward) in the face of all the hurdles they face due to their gender "The Reds" and "The Empty Vessel." In Sujata's opinion she who is grounded with her roots, her mother (Earthy Depths), is able to fly high and slip in ease into her various roles she plays today (Which one of these is me).
New Arts Program
New Arts Program is a non-profit gallery that exhibits work of artists from different parts of the country. Click on the 2013-2014 Preview to learn more about NAP. Go to page 3 of the pdf to read a description of the Project Wall Project, more specifically the Project being curated from Jan. 4 - April 22, 2014 by Pam Roule. A 'virtual' wall has been created on http://www.projectwallatnap.blogspot.com. As coordinator, Pam has gone on the internet and visited different artists websites in a search for diverse art. Sujata was sent an email by Project Wall at NAP requesting her to submit images for the wall. Sujata's paintings touch on universal themes common to all.
The last month of the project images on the blog will be printed and exhibited on the 'real' gallery wall in Kutztown, PA.
The purpose of the Project is to find out what artists all around the country (and the world) have on their studio walls - to share images of the art they are making.