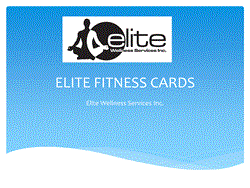 "These cards were originally developed for the school system. But then people started requesting our cards for their own fitness."--Oluchi Ezurike-Afriyie
Toronto, ON (PRWEB) January 29, 2014
The Elite Fitness Cards, launched on Indiegogo, offers a unique and convenient way to stay fit, making it a perfect tool for those struggling with finding a convenient way and time to exercise. With these cards, you can work out anytime and anywhere you chose.
These cards were originally developed for the school system-- for physical education teachers to use within their classes. This is because the exercises were designed to be fun, safe and non-competitive, an important feature because a lot of students avoided physical education classes because they were intimidated by the competitive nature of some of the programs. However, these cards have proven effective for those wanting to lose weight and just to get fit.
The benefits of Elite Fitness Cards include:

Increased energy
Increased strength, cardio and flexibility
Decrease in overall body fat
Support from a team of wellness experts.
The Elite Fitness Cards allows you to get a great workout with minimal space and equipment.
Each exercise decks contain:

43 exercises designed by Certified Athletic Therapist and Kinesiologist
Full colour cards with clear photo demonstration and written description of each exercise
6 ready-made workout programs to help get you started
Email support to answer all your questions and to suggest exercise modifications where needed
"I started doing the exercises myself after using them many times in my phys-ed classes. My students love the workouts and I have seen my own results in a matter of weeks! The non-competitive nature of the workouts works really well in my classes and I am definitely leaner and have more energy since using the cards." H. Curran, Sherwood Park (Elite Fitness Cards customer).
With these cards, you can also create your own workout program based on your fitness goals.
LEARN MORE
Learn more about the Elite Fitness Cards by visiting http://www.elitewellness.ca or visit its Indiegogo campaign page at http://www.indiegogo.com/projects/fitness-cards-get-fit-anytime-anywhere/x/6094242 to become a funder.
Media Contact:
Name: Oluchi Ezurike-Afriyie
Phone Number: (780) 863-5625