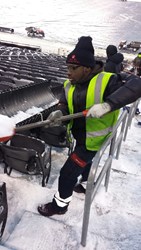 Snow removal at Met Life is "frenzied yet exciting" says Greg Wiszniewski the owner of a contracted company by MetLife Stadium
New York, NY (PRWEB) January 29, 2014
Every time it snows at MetLife stadium contractors bring in bus loads of shoveling workers. MetLife stadium began their search for these shoveling workers last May. Subcontractors placed ads to gather the hundreds of workers needed for each snow removal event.

Over 850 shovelers are needed to complete snow removal services at MetLife Stadium.
2.1 million square feet of MetLife Stadium must be shoveled every time it snows.
Shoveling workers must pass rigorous background checks to step inside the stadium.
Greg Wiszniewski, owner of Busy Bee Cleaning Service in NYC, was subcontracted by MetLife to provide shoveling workers. He describes the experience as a "frenzied yet exciting" event. "MetLife stadium did an excellent job of preparing us for every snow removal event. They had full day training for my supervisors in November. They went over all their safety and preparation guidelines."
The NFL and MetLife stadium carefully track the weather in order to alert their subcontractors of a possible now removal event. "We sometimes only get a 24 hour notice of when the next snow removal event will be " says Greg. As soon as MetLife gives the green light, Greg's office turns into a call center. His employees have only a few hours to reach hundreds of approved shoveling workers. Greg adds, "Usually people don't pick up on the first round of calls, so for the next two hours our phone lines go crazy with shoveling workers not wanting to miss their chance to go."
MetLife stadium has their subcontractors on high alert this season. A rumored snow storm may strike Super Bowl XLVIII on February 2, 2014 which may affect the game. MetLife and the NFL have made sure to prepare their subcontractors so they work their best on game day. Greg says his shoveling workers have gone five times for snow removal events at MetLife Stadium. He says with every experience his shoveling workers become better accustomed to the snow removal process.
MetLife stadium is divided into forty-three sections on snow removal day events. Groups of one hundred shoveling workers are led by MetLife supervisors. These groups shovel one section at a time. Shoveling workers take breaks every 2 hours to recover from the cold weather. Jessenia O., a Supervisor at Busy Bee tells us, "The NFL does a great job of taking care of their people, they have whole buffets of food a lined up along with hot beverages to keep our people motivated."
Read more about Busy Bee's snow removal efforts on their blog at http://www.bbcleaningservice.com/blog
You can also MetLife's official website for updates at http://www.metlifestadium.com