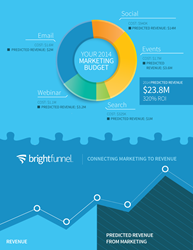 We're delighted that this 'Dream Team' of marketing cloud leaders has come together to support BrightFunnel's vision to turn marketing into a revenue function.
San Francisco, CA (PRWEB) January 30, 2014
BrightFunnel, a revenue insights platform for B2B marketers, announced today that it has raised an advisory round of financing from a group of prominent Software-as-a-Service executives, and assembled its initial advisory board. This group includes industry leaders with ties to all three major Marketing Clouds — Salesforce.com, Oracle, and Adobe — as well as software leaders such as Microsoft, Marketo and DocuSign:
Paul Albright, former CRO, Marketo
David Gutelius, former Chief Social Scientist, Jive Software
Ryan Holmes, founder and CEO, HootSuite
Steve King, former CEO, DocuSign
Scott Kleper, founder and CTO, Context Optional (Adobe Marketing Cloud)
Tim Kopp, former CMO, ExactTarget (Salesforce.com Marketing Cloud)
Chris Maeda, former CTO, KANA Software
Mark Organ, CEO, Influitive and co-founder, Eloqua (Oracle Marketing Cloud)
Venkat Rangan, CTO, Clari and founder, Clearwell Systems (Symantec)
Russell Siegelman, former VP, Microsoft, and Partner, Kleiner Perkins Caufield & Byers
"We're delighted that this 'Dream Team' of marketing cloud leaders has come together to support BrightFunnel's vision to turn marketing into a revenue function," said Tim Kopp, former CMO of ExactTarget and a BrightFunnel investor. "BrightFunnel has a uniquely compelling vision for a next generation CMO platform, and they have the right team and the right customers to deliver on that vision."
BrightFunnel's founding team is comprised of technology veterans with over 50 combined years of domain expertise, and over $900 million in combined exits. Nadim Hossain (CEO), Nisheeth Ranjan (CTO), and Ranjan Bagchi (Lead Architect) have experienced success at market leaders such as Salesforce.com, LinkedIn, Netscape and McAfee, as well as early employees and executives at successful startups, including Trulia, PowerReviews and LiveOps.
BrightFunnel aims to transform marketing from a cost center into a revenue function, giving B2B boards and executives full control and visibility into marketing's direct impact on revenue. CMOs struggle with this today, due to the rapid pace of marketing efforts, the volume of data, and the lack of tools for forecasting, benchmarking, and attribution. BrightFunnel combines a complex machine learning backend with a highly usable interface to allow marketers to tie their efforts to revenue. Through BrightFunnel, CMOs will know how much revenue their efforts will generate and which decisions will have the best impact on revenue growth.
"Having the right revenue insights at the point of decision making — and ultimately automating that decision — is our goal," said Nadim Hossain, himself a former software CMO and Salesforce.com marketing executive. "Our vision is to create a Google self-driving car for B2B marketers: you input your revenue goals, and BrightFunnel takes you there. This is a hard problem, and one that requires a team with a deep technical skill set and domain expertise to accomplish."
Offering predictive revenue insights out of the box, implementation can take as little as 24 hours, and the system is fully compatible with all major marketing automation systems — including Marketo, Eloqua, Pardot, Act-On, and Hubspot — and can gracefully overcome data quality obstacles. Additionally, BrightFunnel plans to offer network-wide intelligence, allowing every customer to benefit from the presence of every other customer through benchmarking data, much like Google Maps, which recommends better routes based on real-time user data.
"BrightFunnel automates our most crucial campaign reporting, saving our team days of work each month." said Dave Hawley, Sr. Director of Marketing at SocialChorus, an advocate marketing software provider, and early customer of BrightFunnel. "Now my team invests more time in discovering and acting on insights, not on creating reports. Further the single source of information allows me to align my teams goals more clearly with sales, finance and the entire organization."
BrightFunnel is currently revenue generating and is on track to hit profitability in the next year. It counts both mid-market and large enterprises among its customers. This round of financing will be spent on product development and customer growth. The company has not taken any institutional funding to date.
About BrightFunnel
BrightFunnel provides CMOs with full visibility and control over their direct impact on revenue. BrightFunnel's vision is to transform B2B marketing from a cost center into a revenue driver. Enabling marketers to attribute, forecast, and benchmark their efforts through easy-to-use big data analytics, BrightFunnel's marketing cloud solution is easy to implement and provides teams with immediate, actionable revenue insights. Its current customers include HootSuite and ExactTarget. For early access to this technology, join BrightFunnel's Innovator Program: visit us at http://www.brightfunnel.com.