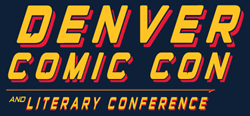 Denver Comic Con is streamlining operations, and by adding more panels and speakers we're delivering a world-class comic con and focusing on some things that set us apart.
Denver (PRWEB) January 29, 2014
Denver Comic Con and Literary Conference (DCC), a program of Comic Book Classroom (CBC) designed to help promote literacy through pop culture, today announced it will increase its volunteer force for the event by 300 percent and offer 300 hours of programming, up from last year's 250 hours. The 3rd annual Denver Comic Con, held at the Colorado Convention Center on June 13 – 15, 2014, is expected to be one of the largest in the nation.
"As much fun as it's been the first two years, we're always striving to make Denver Comic Con better," said Dr. Christina Angel, director, Denver Comic Con. "By putting the right people in the right positions we're streamlining operations, and by adding more panels and speakers we're delivering a world-class comic con and focusing on some things that set us apart—such as kids' and under-20 programming."
DCC promotes community arts and literacy at the con through its more than 300 hours of programming and the CBC Kids Corral, an 8,000-square-foot area providing educational, youth-based programming and fun activities for our younger attendees and their families. The Con is the major funding program of CBC, which applies its curricula in the community through schools and community organizations such as the Denver Public Library.
"Through our own experiences and listening to attendees, we've learned a lot during the past two years—and we're applying what we've learned to this year's Denver Comic Con," said Dr. Angel. "For example, while lines are a part of any con, we're working closely with the Convention Center to maximize line flow and adding efficiency to the badging process."
Denver Comic Con is taking applications for volunteers now on the website at http://denvercomiccon.com/dcc/volunteering-welcome, but the volunteer opportunities will be capped at 1,000.
"We encourage people to get signed up early," said Beth Kovacs, Denver Comic Con's volunteer director. "Volunteering with DCC is a lot of fun—our volunteers also have free access to the con the day of their shift—but it's also a great resume builder for a lot of people. It's not a surprise that most of the volunteers from years past are returning again for 2014."
For more information about Comic Book Classroom or Denver Comic Con and to purchase tickets visit http://www.ComicBookClassroom.org or http://www.DenverComicCon.com.
About Denver Comic Con
Entering its third year, the DCC is Denver's premiere fan experience, covering the worlds of comic books, film, and related media. It is also an extension of and an awareness builder for its parent organization, Comic Book Classroom. For the latest news and information, visit http://www.denvercomiccon.com.
About Comic Book Classroom
Comic Book Classroom is a charitable organization that educates through alternative approaches to literacy, learning, and character development. CBC creates programs for underserved students, schools, and communities via comic books, graphic novels, and related media. CBC is the organizer and producer for the DCC. http://www.comicbookclassroom.org.