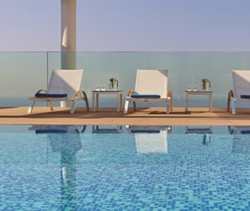 Laguna Niguel, CA (PRWEB) January 28, 2014
Haute Hotel Network is pleased to present The Ritz-Carlton, Laguna Niguel as an exclusive Haute Hotel member.
Haute Hotel Network relies on very specific criteria when choosing a new hotel to be featured; the best hotels in terms of uniqueness and stunning landscapes may be considered, but only those who demonstrate these qualities while exhibiting top-tier luxury accommodations, amenities and exceptional service will be presented with the honor.
As one of the most exclusive and captivating hotels in the world, The Ritz-Carlton Laguna Niguel offers exquisite accommodations that exceed all expectations time and time again. Superior qualities, along with a legacy of splendid service and attention to detail, have earned The Ritz-Carlton Laguna Niguel a spotless reputation.
About Haute Hotel Network
The Haute Hotel Network, a media partner of Haute Living, is a prominent, invitation-only membership circle featuring a limited number of hotels and resorts from each of the top domestic and international markets. Haute Living Network connects affluent audiences with the luxury lodging and hospitality establishments predetermined to be the finest in their respective region. Invitations to the Haute Hotel Network are only extended to hotels and resorts with exceptional amenities with a proven service record that meet only the highest of standards. To learn more about the Haute Hotel Network or view any of our amazing hotel properties, visit our website: http://www.hautehotel.com/
About The Ritz-Carlton Laguna Niguel
The Ritz-Carlton, Laguna Niguel opened on August 27, 1984 and quickly became the premiere luxury vacation destination in South Orange County. Other resorts followed, but none with the spectacular beachfront location and extraordinary service of The Ritz-Carlton. Over the last few years, The Ritz-Carlton, Laguna Niguel has been reimagined and transformed. Most recently all 396 guestrooms were redesigned with décor that reflects the sparkle of the Pacific Ocean, and outdoor fireplaces were added to the patios of first floor oceanfront guestrooms. Additionally, other major features of the re-imagination project included major enhancement to the resort's gardens and grounds, an Eco-Adventure Center, and four new restaurant concepts including Raya, enoSTEAK, 180blu and The Market Place. A visually stunning experience has been created throughout the property that echoes the Pacific Ocean and active California lifestyle while still emphasizing unparalleled Ritz-Carlton service.
Visit The Ritz-Carlton, Laguna Niguel at its website and Haute Hotel profile.