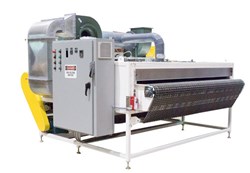 Chattanooga, TN (PRWEB) January 31, 2014
Davron Technologies, Inc. designed and manufactured the DTI-950 — an electric, infrared continuous conveyor oven used to cure powder coating on disc brake pads — for an automotive customer. Due to the nature of the process, the IR panels had to be mounted in a manner so that their height from the conveyor belt could be adjusted. This feature, along with the control system, allows the customer to vary the intensity of the heat affecting the products to suite the type of coating being applied. With a total cycle time of nine minutes, the DTI-950 continuous conveyor oven can cure 280 parts per hour.
Featuring four IR panels in one zone of temperature control, the DTI-950 can be programmed to operate between 250ᴼ and 500ᴼF. The four IR panels utilize SCR control. This system allows for automatic adjustment of voltage to maintain the desired temperature with minimal amount of energy expenditure. The cooling zone features a supply and exhaust fan. High velocity air impingement cools the parts to 140ᴼF in approximately three minutes.
The dimensions of the oven's heated chamber are 7'9" wide x 0'6" high x 4'0" long with a 3'0"-long cooling chamber. The interior of the oven is made out of 16-gauge aluminized steel and the exterior is constructed out of 16-gauge carbon steel. The interior and exterior are separated by four inches of eight-pound-density mineral wool insulation. The oven is finished with 12-gauge carbon steel trim and high-temperature paint.
Davron provided turnkey design and manufacturing services for the DTI-950 continuous conveyor oven to meet the space and curing requirements provided by the customer. The IR panel height adjustment feature was an option added by the customer at Davron's recommendation. Once acceptance and training were completed at Davron's headquarters, the oven was packaged for overseas shipment. Due to the compact design, the DTI-950 continuous conveyor oven was shipped in one piece, making installation simple and efficient for the customer. No outside assistance was needed.
Visit http://www.davrontech.com for more information about Davron's continuous conveyor oven capabilities. Or, if you'd like to discuss your own industrial oven project, please call Davron's Vice President, Jimmy Evans, at (888) 263-2673, or fill out Davron's online spec submission form.
About Davron Technologies, Inc.
Davron Technologies, Inc. custom fabricates industrial ovens, providing turnkey design and system integration services to develop thermal processing solutions. Davron is a total industrial oven manufacturer, creating custom industrial ovens and precision process equipment for every industry that requires thermal processing. Each Davron industrial oven is custom built according to customers' unique specifications. As the Provider of Industrial Oven Solutions, Davron offers one of the largest selections of in-house and on-site industrial oven services in the world.