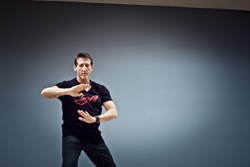 I Breathe, I do the thing I need to do next, I smile.
Huntington Beach, CA (PRWEB) January 28, 2014
On January 1st, 2014, a small group of people from all over the world gathered together to participate in a 5 am Taiji Class, but it wasn't held in a park, it was actually conducted virtually and online.
Initially, it was set as a 31-day challenge to ring in the New Year, a chance for people to get a taste of what getting into flow every morning could do for their stress levels, and physical and mental well-being. "What happened was a transformation of people's lives, every morning I get emails from the participants about the positive impact this program is having on them, it has been phenomenal," says Ross
The Daily Dose of Qi uses the program TaijiFit-2-go which is a 15 minute format of TaijiFit, a mind/body workout that combines the best of traditional Taiji (Tai Chi) with modern Western fitness. David-Dorian conducts each morning live via webinar and webcams, set to popular music, he can view up to 5 participants at a time while he conducts the class.
"If you knew that starting your day with 15 minutes to yourself, could set the energy within your body into balance, and create harmony and balance in your external world as well, wouldn't you do it?" asks Ross. "I've watched people come alive in our classes, experience freedom from pain and achieve a state of bliss they didn't know was possible, I want to bring that to as many people as possible."
Participants in the course have said:
"This past week the quality of my days have felt very different. Much more at peace and much less fear. I am 'getting' it that as I 'practice' tai chi I am learning at a cellular level to be in the NOW and how delicious it feels. I love that you "don't care" so my brain never has to lock into anything...my being can just go with the flow."
"The chronic and sometimes debilitating pain in my feet and ankles has all but disappeared. I have not freaked out at any of the events over the last month that normally would have me reeling. I breathe. I do the thing I need to do next. I smile".
"I have lived the fast life all my life and doing this challenge has showed me to take time to breath things don't need to be done right now. I am so happy I have joined this class had a hard time with it with my disabilities, but i am finding myself loosening up and pain starting to drop. I don't want this class to end!"
"As much as I enjoy your recorded programs, I find the morning sessions this month to be even more beneficial. The real-time, actual interaction is a definite benefit. Every day this month has started with a note of affirmation and I thank you for that!"
"This format is about learning to let go, getting out of your head, finding that moment underneath the beat of the music, where the outside world fades away, so that you can breathe, have a still mind and open the energy channels within your body," says Ross. "TaijiFit, has been a labor of love, it makes Taiji fun and accessible, and it makes Fitness holistic and graceful."
To register for the Free on-line event, go to: http://www.daviddorianross.com/.
To find out more about TaijiFit and its Teacher Training programs, go to: http://www.taijifit.net.
About David-Dorian Ross:
David-Dorian Ross has been playing Taijiquan (The Art of Harmony) for 35 years.
The host and star of the PBS special T'ai Chi, Health and Happiness. David-Dorian's Taijii instructional dvds have sold more than 1 million copies world-wide, and his program "T'ai Chi Beginning Practice" is the best-selling T'ai Chi dvd of all time.
David-Dorian Ross is the founder and CEO of TaijiFit, and the creator of the TaijiFit program - a revolution in Mind/Body exercise. Inside Kung-fu Magazine called David-Dorian "the man who brought Tai Chi mainstream," and TaijiFit is the #1 new mind/body fitness program in North America. Together with his partner, international action film star Jet Li, David-Dorian is on a mission to introduce Taiji (Tai Chi) to 100 million new people worldwide by the year 2020.
Contact Information
De Anna Holloway
949.945.8147
deanna (at) daviddorianross (dot) com