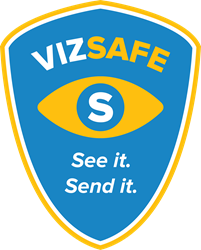 Middletown, RI (PRWEB) January 29, 2014
VizSAFE, Inc. today announced the creation of a new incident reporting channel, "Big Game" to enhance the safety of the Seattle Seahawks vs. Denver Broncos big game on Sunday. The VizSAFE "Big Game" channel will be actively monitored by first responders and law enforcement responsible for security.
VizSAFE was developed to enhance community safety and awareness by enabling the public to share photos and videos from their smartphones in real-time with emergency responders, public safety organizations and other concerned citizens. The public is invited to download the free VizSAFE app to their mobile devices and support their communities by sharing visual safety content to make the Big Game more secure.
As recent events have demonstrated, citizens with smartphones have captured incident photos and videos that have proven valuable to community safety. VizSAFE efficiently streamlines, organizes and delivers this content instantly to organizations responsible for public safety. The mobile app and web platform are designed to help engaged citizens participate in event safety through crowdsourcing and sharing of visual safety content in real-time, turning every attendee into an active node on a global safety network at http://vizsafe.com/biggame.
The app and website are free for users to:

Capture and post photos & videos with descriptions
Upload previously captured media from the camera roll
Geolocate and map incident reports for others to see through the app or website
Receive notifications from family, friends and neighbors when new reports are posted
Subscribe to channels (categories) of interest to receive real-time alerts
Share posts or other user's posts through their Twitter or Facebook accounts
The public is reminded to use extra caution during the Big Game. VizSAFE wishes the best of luck to the Broncos and Seahawks.
About VizSAFE, Inc.
VizSAFE is the only 24/7 global platform dedicated to community safety. VizSAFE's innovative social and mobile web community harnesses the power of citizens to enhance event and community safety by crowdsourcing, organizing and sharing visual safety content in real-time. VizSAFE users are good neighbors who support their communities, as well as first responders in fire, emergency medical, law enforcement, environmental, animal safety and more. VizSAFE partners with organizations that care about public safety. Learn more at http://www.vizsafe.com.