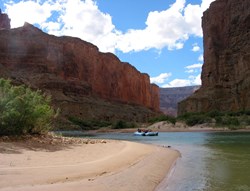 Arizona River Runners offers families plenty of reasons to escape the grind of daily life and get outdoors on a truly unforgettable Grand Canyon rafting family vacation.
Grand Canyon, Ariz. (PRWEB) January 28, 2014
Forget the all-inclusive resorts and the hotel stays this year and plan a family vacation in the great outdoors. Arizona River Runners, a veteran Colorado River rafting outfitter, offers families plenty of reasons to escape the grind of daily life and get outdoors on a truly unforgettable Grand Canyon rafting family adventure. With trips ranging from 3 to 13 days from April through October, families have plenty of tour options to choose from. Here are five reasons why a Grand Canyon rafting trip is the ideal family vacation:
1. It's Time to "Unplug": Many people today are overwhelmed with television, computers, and responsibilities. Mom and Dad are overstressed and overworked, and the kids need a break from video games and time spent online. A Grand Canyon rafting trip with Arizona River Runners offers families the perfect way to truly 'unplug' from the electronics in their life---and their exhausting responsibilities. A trip like this where there are no computers allowed, no cell phones, no video games, and no 'to do' lists gives families the chance to truly spend time together without major distractions.
2. The Grand Canyon Is A Great Classroom: Sure, the kids (and adults) can learn about history by reading a book or sitting in a classroom. But, what better way to learn than by experiencing living history? On a Grand Canyon rafting trip, passengers learn about rock formations that are more than 200 million years old, Native Americans that lived on the river 3,000 years ago, and famous "river runners" that have been trying to conquer the Colorado River for 150 years. Best of all, families have the chance to learn about responsible environmental and cultural stewardship and the fascinating history of the creation of our national park system---one of America's greatest treasures. The Grand Canyon is a live classroom!
3. There Is Something For Everyone: A Grand Canyon rafting trip is a quintessential multigenerational trip. It's a bucket list adventure, so it's one that many grandparents and parents dream of 'checking off their lists'. Grandpa and Grandma love to have time in nature to reflect on the beauty of life, the grandeur of the canyon, and the love they share with their family. The kids love the heart-pumping rapids and tossing a football around by the river. Mom loves having her kids thoroughly entertained as she reads her book while relaxing on her cot, and Dad loves to kick back and relax on the riverside beach with beer and steak. This trip has something for everyone.
4. You Can Truly Commune With Nature: With today's busy urban lifestyle, there is sometimes little time to spend connecting with the natural world. This kind of trip gives travelers the chance to breathe in the fresh air, revel in the beauty of the bright blue sky and the brilliant canyon walls. Having a chance to unplug from life and plug into nature can be a truly priceless and rejuvenating experience.
5. It's Good Exercise: An Arizona River Runners Grand Canyon rafting trip can offer families the chance to truly get outside and stretch their legs. With chances to go swimming, play football (in football field-sized caverns!) or baseball riverside, playing in waterfalls, riding the rapids, and ample opportunities to take exploratory side canyon hikes, a tour like this can be a great way to enjoy fun in the sun and get a great workout.
For more information about Arizona River Runners' 2014 life-changing Grand Canyon rafting trips, visit http://www.raftarizona.com.