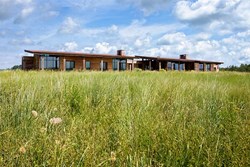 "Perhaps if the EarthWall process is one day adopted in developing nations, it will save not only homes from collapsing, but lives as well," says Ward + Blake Architects Principal Tom Ward.
Jackson Hole, Wyoming (PRWEB) January 29, 2014
The recently completed EarthWall II residence in Squirrel, Idaho, marks Jackson Hole-based Ward + Blake Architects' third-ever application of its EarthWall construction technique, patented by Ward + Blake Principal Tom Ward. Ward + Blake Architects was recently named 2013 Firm of the Year by the six-state AIA Western Mountain Region, partly in honor of innovations such as EarthWall, which combines age-old rammed earth construction with modern post-tensioning. Because the Jackson Hole architecture firm is constantly striving to find new applications for its seismically stable and sustainable construction technique, this project – also featured in a new book of Ward + Blake's architecture, "In the Shadows of the Tetons" – is particularly meaningful.
"It's amazing to think that the owners originally envisioned a Tuscan villa for the site," says Tom Ward. "When we started pushing our environmentally responsive design approach, they loved the idea so much that we ended up literally using the soil in the walls."
The reinforced EarthWall concept won Ward + Blake Architects a Newton Foundation research grant. When the method held up in university tests as the first seismically stable rammed earth wall, a patent for the construction method soon followed and architect Ward put his theories to a real-world test with the construction of his own 3,000-square-foot Jackson Hole home overlooking the Snake River. The idea was further tested when Ward presented his ground-breaking construction technique to a skeptical county design review board, winning approval to use it in the county-funded Teton County Childcare Center.
Ward and his fellow Ward + Blake Principal Mitch Blake found a further residential application with the recently completed EarthWall II Residence, where the earthen walls help to reinforce the horizontality of the home's low-slung design. As extravagantly spare as its high plains setting, the EarthWall II residence is literally grounded on its 160-acre Idaho site with rammed earth walls and a sod roof that invoke the historic context of the sod homes – known as "soddies" – built by early settlers.
While the innovative EarthWall rammed earth construction method has been embraced in the Rocky Mountain West, winning the firm a host of awards, Ward's interest continues to be in its international application.
"The thing that is exciting to me," Ward says, "is the potential for worldwide application of this process. Perhaps if the Earthwall process is one day adopted in developing nations, it will save not only homes from collapsing, but lives as well."
Working with a congregation in Honduras, Ward designed a rectory where locally-sourced materials and local labor could be combined with post-tensioning to provide a low-cost, seismically stable facility. Likewise, Ward has been in discussions with a Sudanese developer about the application of his socially-oriented construction technique for affordable housing.
Uniting 20th-century post-tensioned steel technology with ancient rammed earth construction, Ward's design technique combines low embodied energy and high thermal mass for a seismically stable building that's eco-friendly and socially responsible.
Established in 1996, Ward + Blake Architects was built on a distinctive vision: to be provocative in thought, flexible in nature and disciplined in execution. The firm regularly earns recognition for architecture that is sensitive to its environment and successfully integrated with its surroundings. Ward + Blake creates buildings that are tactile, modern, bio-climatically responsible, honestly expressed, technologically sound and artfully crafted.
Company Information:
Based out of Jackson, Wyo., Ward + Blake Architects was recently honored as 2013 Firm of the Year by the AIA Western Mountain Region. Additional awards include 2012 International Design Awards for Architect of the Year as well as first prizes for new residential building and new renovation; 2012 Gold Award for Best Custom Home by the Dream Home Awards; 2011 AIA Wyoming Firm of the Year; and both the 2011 Gold Award and a 2011 International Design Award for Best Conceptual Home Design. For additional information, visit Ward + Blake online at http://www.wardblake.com.
Media Contacts:
Media Contact: Darla Worden, WordenGroup Strategic Public Relations, darla(at)wordenpr(dot)com, 307.734.5335