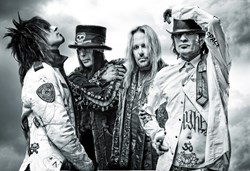 Milwaukee, WI (PRWEB) January 28, 2014
Milwaukee World Festival, Inc. officials are excited to announce the fifth major show slated for Summerfest 2014. MÖTLEY CRÜE with very special guest, Alice Cooper will headline the Marcus Amphitheater on Friday, July 4.
After more than three decades together, iconic rock 'n roll band MÖTLEY CRÜE announced today their Final Tour presented by Dodge and the band's ultimate retirement. The announcement was solidified when the band signed a formal Cessation Of Touring Agreement, effective at the end of 2015, in front of global media in Los Angeles today. Celebrating the announcement of this Final Tour, the band will perform on ABC's Jimmy Kimmel Live TONIGHT and will appear on CBS This Morning TOMORROW MORNING.
With over 80 million albums sold, MÖTLEY CRÜE has sold out countless tours across the globe and spawned more than 2,500 MÖTLEY CRÜE branded items sold in over 30 countries. MÖTLEY CRÜE has proven they know how to make a lasting impression and this tour will be no different; fans can expect to hear the catalogue of their chart- topping hits and look forward to mind-blowing, unparalleled live production.
"When it comes to putting together a new show we always push the envelope and that's part of Motley Crue's legacy," explains Nikki Sixx (bass). "As far as letting on to what we're doing, that would be like finding out what you're getting for Christmas before you open the presents. We think in an age of too much information, we'd like to keep some surprises close to our chest until we launch the Final Tour."
Tickets go on sale this Friday, January 31 at 10:00 am and include Summerfest admission. Tickets can be purchased at the Summerfest Box Office, Ticketmaster Ticket Centers, Walmart stores, online at Ticketmaster.com and by phone at 1.800.745.3000 (live Ticketmaster Agent) or 1.866.448.7849 ("Ticketmaster Express" automated phone line). Patrons may also utilize "ticketfast" at Ticketmaster.com to print barcoded concert tickets from home. Convenience fees may be added to all purchases.
.
PLEASE NOTE: To purchase Marcus Amphitheater tickets in person at the Summerfest Box Office on the day of the on sale, patrons must visit the temporary location at the Mid Gate on the corner of Harbor Drive and Chicago Street. Parking will be available across the street.
Summerfest fans get access to "Stay Connected" Pre-sales before tickets go on sale to the general public when they subscribe to receive Summerfest News email alerts at Summerfest.com, "Like" Summerfest on Facebook or follow Summerfest on Twitter. The MÖTLEY CRÜE Pre-sale will run Thursday, January 30 from 10:00 am – 10:00 pm CST or until pre-sale inventory has been exhausted.
Fans are encouraged to follow the band on Twitter:@MotleyCrue and share the news of the Final Tour.
TWEET IT: #RIPMotleyCrue - @MotleyCrue announces #TheFinalTour, and headlines @Summerfest on July 4. Full details at Motley.com.
Fans can look forward to very special guest, ALICE COOPER joining MÖTLEY CRÜE for an incredible package - Alice invented the genre and MÖTLEY CRÜE put steroids in it!
"Real hard rock bands are hard to find these days," said Alice, continuing, "Motley has always gone on stage with one attitude and that's to blow the audience away. That's exactly how we do it. Putting Motley Crue and Alice Cooper together is going to be just what this summer really NEEDS. We're going to go out there and tear it up, and I can't wait to see Motley on stage. Motley Crue and Alice Cooper - a match made in ... Armageddon?"
As documented in the Cessation Of Touring Agreement the band signed at the press conference today, the band will not tour after this Final Tour. Band Attorney, Doug Mark of Mark Music & Media Law, explains "Other bands have split up over rancor or the inability of people to get along, but this is mutual among all four original members and a peaceful decision to move on to other endeavours and to confirm it with a binding agreement."
Vince Neil, Nikki Sixx, Tommy Lee, and Mick Mars will go their separate ways after the lengthy 2-year touring cycle. Tommy Lee (drums) explains "Everything must come to an end! We always had a vision of going out with a big bang and not playing county fairs and clubs with 1 or 2 original band members! Our job here is done!"
Of the band's tumultuous history, Mick Mars (guitar) adds "(It has been) more drama than 'General Hospital' - it keeps 'em watchin' and they keep comin' back."
Vocalist, Vince Neil says of the Finality of the tour - "I'll miss playing with the guys but I won't quit playing rock and roll! I feel there are a lot of great opportunities and exciting projects after Motley."
The Final Tour will coincide with the film made from MÖTLEY CRÜE's NY Times Best-Selling book The Dirt. Jeff Tremaine (Bad Grandpa) has signed on to direct the opus that is set to debut in theaters globally in 2015, coinciding with The Final Tour. The Dirt is not only one of the best selling rock books of all time but also one of the greatest rock books of all time because of its brutal honesty, its unique voice, its multiple perspectives on the same events and its first-person inclusion of all members of the same band. Most rock memoirs are salacious mud-slinging accounts of a single person and MÖTLEY CRÜE was adamant to include the perspectives of all four of its members. Tremaine's intention is to make, not just a great movie about a band, but a great movie about four misfits who, despite themselves and everyone else, band together to overcome the odds and change the history of Rock & Roll. The film will be produced by the members of MÖTLEY CRÜE, Rick Yorn, Julie Yorn, Erik Olsen and 10th Street Entertainment.
"The Dirt' is a movie I've wanted to make ever since I read the book in 2002," says Tremaine. "I relate to the story on so many levels; my whole professional career has been about boys behaving badly, so I have a real connection to the material. It's awesome to be working with the band at such an exciting time in Motley Crue's history."
BIG MACHINE RECORDS, home to Country Superstars such as Taylor Swift and Tim McGraw has teamed up in a joint venture with MÖTLEY RECORDS and ELEVEN SEVEN MUSIC for the summer 2014 release of a Country Music Tribute To MÖTLEY CRÜE. BIG MACHINE founder and CEO, Scott Borchetta, is among the legion of country music fans who love MÖTLEY CRÜE. The country tribute album will show off the band's quality song writing with fresh takes on their classic hit songs. Among the artists already confirmed to be featured on the country tribute album is Florida Georgia Line.
Borchetta says of the collaboration, "I have been a not-so-secret Crue fan from the beginning. When manager Chris Nilsson called with the idea for a tribute album on Big Machine Records it was an immediate 'yes' from me! Our album will highlight just how great the Motley Crue song catalog is. At the end of the day, that's what will stand the test of time."
Summerfest 2014 will take place June 25 - 29 and July 1 - 6 from Noon until Midnight and will be closed Monday, June 30. Following its 1968 debut, Summerfest has evolved into what is now recognized as "The World's Largest Music Festival" and Milwaukee's cornerstone summer celebration, bringing the music industry's hottest stars, emerging talent and local favorites along with approximately 900,000 people from Milwaukee and around the world together each year for an unforgettable live music experience. During the festival, the spotlight shines on over 800 acts, over 1,000 performances, 11 stages, delectable food and beverages and interactive activities, all in a world-class festival setting. Patrons can also enjoy Miller Lite, the Official Beer of Summerfest. For more details, visit Summerfest.com, Facebook.com/summerfest or Twitter: @Summerfest.
###