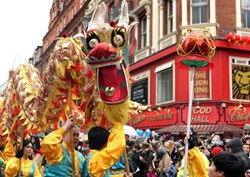 Chinese New Year Celebration
London, England (PRWEB UK) 29 January 2014
Last year over 300,000 people took part of the festival. Visitors from different parts of the world come to the capital city to participate in the festivities every year. The actual date of the event varies but normally falls between late January and the beginning of February. Chinatown attracts many of the visitors where they can admire the New Year- themed decorations and special events that take place at restaurants, bars and shops.
The parade starts in the morning on Sunday the 2nd February 2014. The celebration will kick off at 10am at Duncannon Street. Traditional dragon dancers will set off to the main stage in Trafalgar Square where the opening ceremony will keep the audience entertained until late afternoon. There will be plenty of activities and celebrations around Chinatown, Leicester Square and Shaftesbury Avenue.
In the Chinese calendar each year is represented by one of the twelve animals of the Chinese zodiac. 2014 is the Year of the Horse according to the Chinese calendar and it is apparent once every 12 years. The horse is a symbol of travelling, but also a sign of speedy success. It is also one of the favourite Chinese animals and it is treated as a Romantic Star sign in their horoscope.
Chelsea Bridge Apartments incorporates twenty two apartments to accommodate and welcome visitors from all over the world. A taste of luxury in recently refurbished spacious rooms with fully fitted kitchen and gorgeous living spaces. Our guests benefit exceptional concierge service, clean rooms and reasonable prices at a 'home away from home' in a central location. Plan ahead to avoid any disappointment as the apartments get booked up early.