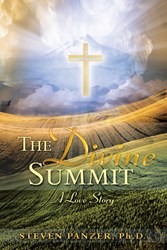 I felt as if my entire world was a barren wasteland.
Los Angeles (PRWEB) January 30, 2014
If you are unwilling, it will be difficult to understand the true purpose and power of Christ says Steven Panzer, Ph.D. In his inspirational novel, "The Divine Summit: A Love Story," he reveals that in the darkest moments, when despair and hopelessness can destroy our faith, this is when Christ bestows his greatest blessings on us.
As a spiritual counselor for thirty years, Panzer discovered that most Christians are not aware of the sanctifying power of grace working to transform their lives through their most agonizing trials and tribulations.
After experiencing great loss and tragedy in his own life, the author reached rock bottom. "I felt as if my entire world was a barren wasteland," said Panzer. "From the depths of despair I cried out to God to relieve me of my pain. The miracle that took place in my moment of complete surrender transformed my life for eternity. I experienced an instantaneous conversion, receiving Christ's divine love and glory in my heart."
Determined to share that life changing experience with his spiritual brothers and sisters he wrote "The Divine Summit: A Love Story."
This heartwarming romance novel is a story of intrigue, mystery and adventure. As the protagonist's life unravels, Michael Salter's faith in God shatters. Thus begins a miraculous spiritual journey culminating in the experience of God's love and glory. It is a tale of the awesome power of Christ's love to heal the characters of their deepest pain and fear, unveiling a profound intimacy between a man and a woman that can only be experienced through the grace of the Lord.
"The Divine Summit: A Love Story"
By Steven Panzer, Ph.D, ISBN: 978-1-4908-1096-6
Available in softcover, hardcover, e-book
Available on Amazon, Barnes & Noble, and Westbow Press online stores
About the author
Steven Panzer is a spiritual counselor to Christian entrepreneurs and a leadership coach to CEO's of secular companies. During his career he consulted with more than ninety companies, taught graduate courses as a professor at Pepperdine University, counseled hundreds of Christians and led a ministry to mentor business owners. Panzer and his wife Holly live in Los Angeles with their three rescue dogs. Website: http://www.thedivinesummit.com.
For review copies or interview requests, contact:
Brittani Hensel
317.602.7137
bhensel(at)bohlsengroup(dot)com