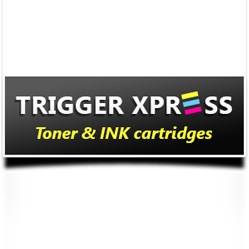 High Quality Premium Ink and Toner Cartridges
Toronto, Ontario (PRWEB) January 30, 2014
One of the best ways of ordering new ink and toner cartridges is to visit http://www.triggerxpress.com. Ordering online has become commonplace for many different items, and that now includes ink and toner. Trigger Xpress now offers many different toner and ink cartridges that are compatible with a large number of brand names. What's even better for the consumer is that these cartridges are shipped directly from the Trigger Xpress warehouse for very reasonable prices, plus they are also available for pickup at the nearest Trigger Xpress store.
Trigger Xpress stocks a large number of compatible toner and ink cartridges for many different brands of printers and copy machines. This includes brands such as HP, Brother, Canon, Samsung, Lexmark, Xerox, and Dell. These cartridges are fully compatible with the printer models listed on the website and can be used in place of brand name cartridges. There is no difference in the quality of ink or toner used in these cartridges.
These cartridges are premium quality products that are virtually identical to brand name cartridges. They are filled with the same density of toner as brand name cartridges, and the weight is identical. Printers will recognize them as if they were standard cartridges. The difference is in the price. These compatible cartridges sold by Trigger Xpress are much cheaper than those sold through conventional office supply stores. Printer cartridges are always needed in the workplace, but few companies want to spend large amounts of money on them. Purchasing compatible from Trigger Xpress is a great way for a business to save money.
In addition to offering high quality premium ink and toner cartridges, Trigger Xpress offers customers refurbished printers and copiers at very competitive prices. All of these machines have been restored to factory standards and are sold with full toner cartridges. While they are refurbished machines that have been used before, they have been completely restored and thoroughly tested to ensure that they operate as they should. Purchasing refurbished printers and copiers will help a small business acquire the machines it needs without going over their budget.
Trigger Xpress offers affordable, competitive shipping prices to locations in Canada and offer free pickup from their store in Toronto. They offer a lifetime performance guarantee on all refurbished machines. If for whatever reason a customer is not satisfied, Trigger Xpress will replace, exchange, or repair the product for a similar one. They also offer a 15 day refund on compatible laser toner cartridges and a 14 day defective exchange.
About Trigger Xpress:
Headquartered in Concord, Ontario, Trigger Xpress offers a wide variety of compatible ink and toner cartridges and new/refurbished printers and copy machines. Orders are filled and shipped quickly or can be picked up in store. Customer service representatives can be contacted for assistance with ordering. They are the top choice for 100% new compatible toner and ink cartridges in the Greater Toronto Area.