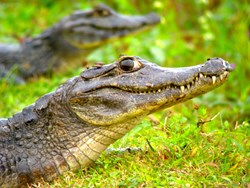 The affordable opportunities to see wildlife and scenic treasures are under-appreciated by travelers.
Ann Arbor, MI (PRWEB) January 31, 2014
While World Cup Soccer, June-July 2014, and the August 2016 Summer Olympics are the popular Brazil tourist promotion stories, the natural wonders of Brazil are rarely mentioned in these conversations.
Adventure tour operator JOURNEYS International of Ann Arbor says that the dates outside of these world sporting events offer a great chance to explore the diverse and abundant natural areas beyond the sports venues. Upgraded airports, improved accommodations and other infrastructure improvements are making it easier to travel throughout Brazil.
JOURNEYS offers five different guided Brazil itineraries, all with options for customization. Trips focus on the country's natural wonders including the Amazon Basin, Pantanal wetlands, and historic coastal colonial cities and beaches.
"Brazilians are sports crazy, and prices will soar during the world sporting events," says JOURNEYS Senior Director Will Weber, "but the affordable opportunities to see wildlife and scenic treasures are under-appreciated by travelers."
Weber especially recommends visiting the vast Pantanal wetlands, home to a huge variety of birds ranging from macaws to ibises and eagles, as well as the giant anteater and many primates, all relatively easy to observe. One local Pantanal ecolodge also offers jaguar tracking with a good chance of seeing this elusive cat.
He also recommends visiting the Amazon, where vast areas are preserved and teeming with wildlife. JOURNEYS offers frequent departures of a nine-day, naturalist-guided small ship cruise, as well as Amazon ecolodge based trips.
All trips offer the option of an extension to visit to Iguazu Falls or extra time in Rio.
"If you are a sports fan, come for the Olympics or World Cup -- make your reservations now and add some time for natural Brazil," Weber suggests. "If you would rather avoid the crowds in favor of a wild and exotic nature experience, take advantage of the improved airports, but head in the opposite direction of the sports fans."
For more information on JOURNEYS guided Brazil trips, call Lené Minder at 1-800-255-8735. Ask her about the trip she will be accompanying this summer. Also, check out a Brazil Q&A with Senior Director Will Weber.
About JOURNEYS
JOURNEYS International is the longest standing family-owned global ecotourism company in the US. JOURNEYS offers full-service exotic, guided cross-cultural explorations, nature safaris, treks and eco-tours in remote corners of Asia, Africa, the Americas, and the Pacific. Founded by current directors Will and Joan Weber in 1978, JOURNEYS boasts an extraordinatry record of client and staff satisfaction and several industry awards.