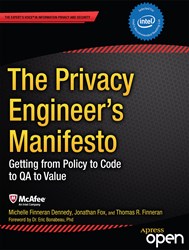 "This book provides both a vision and a toolbox for policy makers, data architects, and engineers to creatively and responsibly manage this explosion of personal data." — Omer Tene, Affiliate Scholar at the Stanford Center for Internet and Society
New York, NY (PRWEB) January 28, 2014
Engineers and developers are imagining, creating, and delivering valuable new services and products dependent on personal information at a rapid pace. At the same time, the landscape of data privacy regulations and requirements is growing increasingly complex. The combination of information technology innovation, digital consumerization, and use of personal information has brought about a critical moment in privacy. This makes the emerging role of "privacy engineer" paramount, and the necessity of baking privacy in—as opposed to bolting it on as an afterthought—imperative to our electronic future. "The Privacy Engineer's Manifesto: Getting from Policy to Code to QA to Value"—newly published by Apress Media—is the definitive guide for anyone who is involved in designing, developing, deploying, and reviewing products, processes, applications, and systems that process personal information.
The authors—Michelle Finneran Dennedy, Jonathan Fox, and Thomas R. Finneran—guide the reader through translating the major privacy frameworks into concrete concepts that can be applied throughout the product or process life cycle and used in conjunction with proven engineering methodologies such as UML and Agile. "We've arrived at a point in history where the volume and nature of the personal data available to organizations threatens to upend the delicate balance between the power of governments and businesses and individual rights. 'The Privacy Engineer's Manifesto' provides both a vision and a toolbox for policy makers, data architects, and engineers to creatively and responsibly manage this explosion of personal data," says Omer Tene, Affiliate Scholar at the Stanford Center for Internet and Society and a Senior Fellow at the Future of Privacy Forum.
The book is the first of its kind to go beyond mere theory and provide a toolbox of policies, procedures, and technologies that are designed to ensure privacy requirements are included in all stages of the development cycle. These tools have been fashioned to drive a movement toward the collection of data that has been "privacy engineered" to meet applicable policies and regulations. The book also discusses organizational readiness and design for privacy engineered environments.
Crucially, the authors address how to think about and assign value to personal data being protected and discuss how we can live in a world of trillions of sensors and data points without compromising our fundamental principles. They offer lucid perspectives on the opportunities provided through insight and actionable information versus the risks and challenges associated with blanket data collection. Sprinkled throughout the book are specially commissioned articles from a who's who of privacy, information security, software engineering and other related disciplines in audit, artificial intelligence and more. These leaders offer additional insights based on their own real-world experiences and expertise.
"The Privacy Engineer's Manifesto" is designed for multiple stakeholders, including software and hardware engineers, technical program and product managers, support and sales engineers, system integrators, IT professionals, lawyers, and information privacy and security professionals. In short, this guide is for anyone participating in the information economy of today and in the future. The centerpiece ten-point manifesto is primed to galvanize everyone from the engineer to the average citizen.
Thanks to innovative open access publishing, the eBook version of "The Privacy Engineer's Manifesto" is freely available to download and share under the ApressOpen program. Print copies of the book are also available for purchase. For more information about the book and how to get it, please visit http://www.apress.com/9781430263555.

ISBN: 9781430263555
400 Pages
User Level: Intermediate to Advanced
Publication Date: January 22, 2014
Available eBook Formats: EPUB, MOBI, PDF
eBook Price: $0.00
Print Book Price: $39.99
About the Authors
Michelle Dennedy currently serves as Chief Privacy Officer at McAfee, supporting McAfee's outreach efforts to educate and protect children, families, and communities in the Digital Age. Before coming to McAfee, Michelle founded The iDennedy Project, a consulting and advisory company specializing in privacy and security sensitive organizations, and held positions at Oracle Corporation and Sun Microsystems. Jonathan Fox is currently Director of Data Privacy at McAfee. He was previously the Director of Privacy at eBay, and before that, Deputy Chief Privacy Officer at Sun Microsystems. Thomas Finneran is a Member of the Bar of the U.S. Supreme Court and of Ohio, New Jersey, and Connecticut, and Member of the Patent Bar. He has practiced business, civil rights, and intellectual property law and held executive positions at major corporations, including Director of MIS at a major research lab. He has been a Principal Consultant for more than 25 years.
About Apress Media
With more than 1,500 books in print and e-formats, Apress is the authoritative source for IT professionals, software developers, and business leaders all over the world. Apress provides high-quality, no-fluff content that helps serious technology professionals build a comprehensive pathway to career success. Since 2007, Apress has been part of Springer Science+Business Media, one of the world's leading scientific, technical, and medical publishing houses, enabling global distribution of Apress publications. For more information, please visit http://www.apress.com.
ApressOpen is the world's most effective viral distribution platform for eBooks. Through ApressOpen, thought leaders in technology communities can distribute unique learning resources to readers around the world through free distribution of digital content. For more information, contact apressopen(at)apress(dot)com.