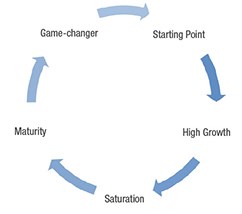 Additive manufacturing will revolutionize the healthcare industry's supply chain...
Medina, OH (PRWEB) January 28, 2014
Scott Sheldon concludes The Healthcare Roller Coaster White Paper Series via case study examples of how industries are transformed through industry game-changers. Currently, the Healthcare value chain is going through this transformation a la additive manufacturing.
Click here to read the full white paper; below are some excerpts.
Additive manufacturing will revolutionize the healthcare industry's supply chain—and many other industries for that matter. It will do what Dell's innovative supply chain model did to inventory practices, what the iPhone did to the cellular phone industry and what Facebook did to social media. The Economist called additive manufacturing "momentous" in their April 2012 article, "The Third Industrial Revolution".
Most industries follow a similar trajectory of growth: (see photo)
And then it begins again. The cycle starts with the inevitable development of "the next big thing" and propels the market in a new direction. Remember, if you were a winner in the old paradigm, chances are you will struggle in the new paradigm.
The Healthcare Industry Market Game Changer
"What is driving the new paradigm in the healthcare industry?" Additive manufacturing. This revolutionary technology has already begun to redefine the manufacturing of pharmaceuticals and medical devices, product packaging, drug delivery techniques, and even the production of human cells for tissue and organ regeneration.
Along with changes in government regulations on insurance coverage to standards for packaging and serialization, additive manufacturing will play a vital role in lowering costs throughout the value chain. At the same time, it has the power to improve patient outcomes. The industry will be forever changed. Consider a few other industry paradigm shifts as case studies…
To read the full white paper click here.
About Scott Sheldon
Scott Sheldon, LLC is a global engineer of supply chain transformations across Healthcare & Life Sciences, CPG & Retail, and Manufacturing—and has been for over nine years. Their portfolio includes network optimizations, WMS implementations and clinical trial engagements for Multinational Healthcare Companies*, Pier 1 Imports, Rubbermaid and many other Fortune 500 companies.
###
PR122-ks