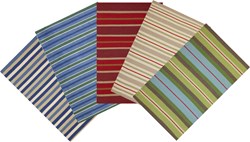 New customers are attracted by the designs, and they find both lines affordable.
Manchester Center, VT (PRWEB) January 30, 2014
Chandler 4 Corners, known as a leader in hand-hooked wool pillows and rugs, is expanding in two new directions: canvas pillows and flatweave rugs. These new lines will be making their northeast debut at the New York NOW gift show at the Jacob K Javits Convention Center February 2-6 . The canvas pillow are designed by Laura Megroz, and the flatweave rugs have colorways designed by DrewAnn Dunigan. The new products were enthusiastically received when they were first introduced to the trade in Atlanta at AmericasMart in January,.
"Our longtime customers loved that we are venturing into something new—they are trust our commitment to quality. New customers are attracted by the designs, and they find both lines affordable," said company president Henry Chandler.
The flatweave rugs are 100% wool, which sets them apart from the cotton and wool-blend rugs on the market, and also enhances durability. The color combinations have been meticulously selected and reflect natural settings or seasons, which show up in many of the names such as Garden Spring, Summer Lodge, Mountain Stream and Beach Sand. There are 21 flatweave designs.
Canvas pillows are also new to the company this year, and carry through from their hooked wool pillows and rugs with designs by Laura Megroz, the company's lead designer for more than a decade. The canvas pillows are 20" square and are slightly larger than their hooked counterparts, and the canvas also come with feather/down inserts or polyfill optional.
Chandler 4 Corners has been providing hand-hooked wool pillows, rugs and accent furniture to the upscale market since 1991. In 2013, they introduced a children's line of hooked pillows (Julya's Designs) as well as knit pillows. For more information, get the new 2014 Chandler catalog, which will also be available at NYNOW, or visit online at c4cwholesale.com.