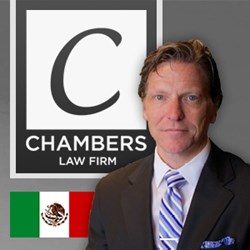 Because Dan is fluent in Spanish, he can converse with Spanish-speaking clients directly in their native tongue without the distraction or extra expense of an interpreter
Irvine, Ca (PRWEB) January 29, 2014
Chambers Law Firm is proud to announce the launch of a new Spanish website, es.chamberslawfirmca.com. This new site features robust content showcasing bilingual attorney Dan E. Chambers' fluency in Spanish and extensive experience in all aspects of criminal law.
Dan E. Chambers believes strongly in maintaining open lines of communication with each and every client and giving them his undivided attention during every conversation. This philosophy was a large part of the motivation behind Dan's decision to offer bilingual legal services. Because Dan is fluent in Spanish, he can converse with Spanish-speaking clients directly in their native tongue without the distraction or extra expense of an interpreter. Clients can call his cell number any time 24/7 and receive expert assistance in the language that they are most comfortable speaking.
Chambers Law Firm's new Spanish website makes Dan's services readily available to the large Spanish-speaking community present in the Los Angeles area. It features detailed content about all of the criminal charges within his realm of expertise, including:

Arson
Assault & Battery
Burglary
Conspiracy
Cybercrime
DMV Perjury
Domestic Violence
Drug Crimes
DUI
Elder Abuse
Embezzlement
Forgery
Fraud
Homicide
Insurance Fraud
Internet Crime
Juvenile Crimes
Kidnapping
Perjury
Parole Violations
Property Crimes
Racketeering
Sex Crimes
Stalking
Technology Crimes
Theft
Vehicle Code Violations
Vehicular Manslaughter
Weapon Charges
White Collar Crimes
Individuals accused of any of the above crimes, as well as their loved ones, can utilize Chambers Law Firm's Spanish language website as a quick reference to learn more about the potential penalties they may be facing, as well as the possible legal arguments that could be used in their defense. In this way, the new website is expected to help individuals who may be unfamiliar with California's laws as well as its official language.
Another part of the blog that is specifically designed to assist clients and their loved ones is the blog. Each month, this blog will be updated with topics of interest to the Spanish-speaking community, including what to do if a loved one is arrested, how to post bail quickly, how to handle DMV and DUI problems, and more.
About Dan E Chambers, Los Angeles Criminal Defense Attorney
The founder of Chambers Law Firm, Dan E. Chambers has been in practice for over 20 years. He earned his JD from Southwestern University School of Law in 1991, graduating second in his class. He then served as a Los Angeles County Deputy District Attorney for six years and was in private practice at other firms for approximately 15 years, handling a wide range of highly complex litigation matters. As a criminal defense attorney, Dan's primary area of practice now involves the representation and defense of individuals and businesses in all types of criminal and administrative matters, in both federal and state court throughout southern California.
9107 Wilshire Boulevard Suite 450
Beverly Hills, CA 90210
Office: 949-246-1475
2600 Michelson Drive Suite 1700
Irvine, CA 92612
Office: 949-852-3540
Fax: 949-852-3501