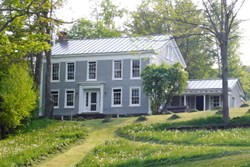 Buyers are attracted to the simple design of our farm houses.
Margaretville, NY (PRWEB) January 29, 2014
From farmhouses with simple and unadorned features to modern contemporary homes with vast open floor plans, the Catskill Mountains of Upstate New York offers real estate buyers many architectural style options. There is no more enduring style to many buyers, though, than those homes built in the latter Nineteen and early Twentieth centuries. Often, though, homeowners take these historic homes in very different –and unexpected—directions.
Architectural innovators often turn to the Catskill Mountains for historic homes, according to Catskills real estate broker Eric Wedemeyer. "Buyers are attracted to the simple design of our farm houses," said Wedemeyer whose Coldwell Banker Timberland Properties agency has four offices in the region. "lOur older homes give buyers a sense of history," he added. "What they do a home interior really challenges conventional thinking about the home."
"Homeowners want comfort," said Wedemeyer, "and they want to bring their personal vision to the home." Modern kitchens, living spaces wired for high-speed Internet access, marble flooring, elaborate baths, and other amenities are now common place in older farmhouses. "These homes have been re-imagined to reflect personal tastes and today's lifestyles," he added.
Wedemeyer cited three of his agency's listings that have been "re-imagined" by their owners. One, located near the Catskill Mountain village of Hobart is a circa-1840 Greek Revival farmhouse with classically proportioned rooms with high ceilings, original woodwork detail and wide plank hardwood floors. Featuring an eat-in country kitchen with slate floors, Corian counter tops and outdoor deck access, the home has all the expected modern conveniences. Described by listing agent Alex Exarchos as "luxe country living at its best", the home is "perfectly placed on 2.7 low maintenance acres ringed by mature trees and surrounded by hundreds of acres of Agricultural Easement land." Offered for $345,000, the 3000 square foot home is located on 2.7 acres.
For more images of this Hobart, New York, home, click here.
Another re-imaged farmhouse is located near Andes. A Greek Revival farmhouse built in 1840, this 4200 square-foot home features five bedrooms and three full baths. According to listing agent Susan Doig, "this home displays the best in modern Catskill life and only the finest craftsmanship was used to complete this estate." The property includes a second, partially-restored, three-bedroom farmhouse as well as a 22' by 24' studio. Set on 65 farmland acres with spectacular views, the home's asking price is $1,485,000.
For more images of this Andes, NY, home click here.
Wedemeyer added that historic farmhouses are in great demand. "Architectural purists enjoy the often simple construction and unadorned style of old farmhouses." He cited a circa-1794 stone cottage in the township of Kortright as a rare find in today's real estate market. According to listing agent Carol Spinelli, the home features "with solid two-foot deep stone exterior walls, hand-hewn wood beam interior framing, solid oak plank flooring, a large stone fireplace on the first floor, a brick fireplace on the second floor and as well as an exterior fireplace. Offered for $625,000, the 1700 square-foot home sits on 247 acres of land.
For more images of this Kortright, NY, home click here.
Coldwell Banker Timberland Properties, with offices in Margaretville, Boiceville, Delhi and Stamford, is the premier real estate agency of the Catskill Mountains in New York State. Buying and selling land and homes in the New York City watershed area is unique and the 30-plus agents of Coldwell Banker Timberland Properties are trained to help buyers and sellers through this process. For more information about Coldwell Banker Timberland Properties and to preview Upstate New York homes and land offerings, go to http://www.timberlandproperties.com or http://www.catskillpremier.com.