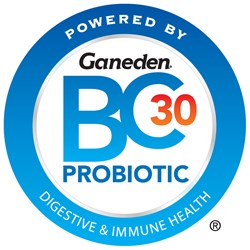 (PRWEB) February 05, 2014
The New York Daily News chose two Ganeden Biotech partner products to top its list of fabulous finds from the Winter Fancy Food Show in San Francisco last week where over 1,300 exhibitors showcased 80,000 specialty foods and beverages from across the US and 35 countries.
Probiotic coffee grabbed a lot of attention at the show, including that of the New York Daily News writer: "Get the health benefits of yogurt from your morning joe!" the article stated. The editor highlights Copper Moon instant probiotic coffee. These single-serve instant coffee stick packs offer great tasting coffee with the benefits of Ganeden Biotech's temperature-stable probiotic GanedenBC30 in Colombian and French Vanilla varieties.
Also among the newspaper's top show product picks was Ruby Rockets — Frozen Veggie Pops. These all-natural ice pops for kids combine fruits, vegetables and GanedenBC30 -- Ganeden Biotech's temperature-stable probiotic, in a pop. These delicious pops, created by New York actress and mother Wendy Makkena, also recently won the SupplySide Editor Choice Award for Functional Foods.
"That the New York Daily News, one of the country's largest newspapers, chose to highlight two Ganeden partner products out of 1,400 exhibitors at the Fancy Food show demonstrates the power of adding GanedenBC30 to a product," said Michael Bush, Ganeden Biotech's Senior Vice President.
The article also highlights the increase in nutrient-enriched foods: "Food companies are putting healthy additives into everything this year," the article states. "Food companies are listening to consumer demand for food products enriched with quality branded ingredients like GanedenBC30," Bush said. In the 2013 Ganeden Biotech launched 19 products enriched with GanedenBC30.
Click here to view the article: http://www.nydailynews.com/neat-eats-veggie-pops-probiotic-coffee-article-1.1590444.
###
About GanedenBC30:
Ganeden Biotech's leading probiotic, GanedenBC30 (Bacillus coagulans GBI-30, 6086), is a patented, organism that can be found in more than 85 leading food, beverage and companion animal products throughout the world. Unlike most other probiotic strains used in food and beverages, GanedenBC30 is highly stable and can remain viable through processing, shelf life and the low pH of stomach acid. The efficacy of GanedenBC30 is backed by 17 published studies. GanedenBC30 has an exceptional safety record and FDA GRAS status from the United States Food and Drug Administration. For more information, please visit http://www.GanedenBC30.com.
About Ganeden Biotech:
Founded in 1997 the Cleveland, Ohio-based Ganeden Biotech is at the forefront of probiotic research and product development with an extensive library of published studies and more than 100 patents for probiotic technologies for the food, beverage, animal health, and now personal care ingredients markets. Ganeden is best known for GanedenBC30® (Bacillus coagulans GBI-30, 6086), its patented, FDA GRAS probiotic ingredient found in more than 75 leading food and beverage products. A highly stable probiotic ingredient with physical properties that make it more stable than traditional probiotic organisms (such as Lactobacillus and Bifidobacterium); GanedenBC30 is ideally suited for almost any food, beverage or companion animal application. Ganeden's newest ingredient, Bonicel, is the first science-backed, probiotic-derived, personal care ingredient shown to dramatically reduce signs of aging. It can easily be incorporated in virtually any lotion, cream, soap, shampoo or other personal care product. Ganeden is more than an ingredient supplier; Ganeden works with its clients as a partner, taking special care to add value from initial contact to product launch and beyond. For more information about Ganeden Biotech and licensing opportunities visit http://www.GanedenBiotech.com.