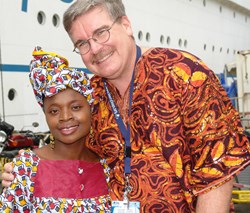 Once I got to know the women, I knew this was how I wanted to spend my career.
San Jose, California (PRWEB) January 29, 2014
Renowned fistula surgeon and trainer Dr. Steve Arrowsmith joined Fistula Foundation in a new role as Medical and Programs Director. Dr. Arrowsmith brings more than 27 years of experience and intensive fistula knowledge to the Fistula Foundation team, further strengthening the Foundation's capacity to collaborate with their partners treating women on the ground in Africa and Asia.
Dr. Arrowsmith worked with Fistula Foundation for several years prior to becoming a staff member. He will be responsible for traveling to Fistula Foundation's 38 partner sites to train new surgeons, help build new programs, and strengthen established programs.
Fistula Foundation is a nonprofit organization dedicated to ending the suffering caused by the childbirth injury obstetric fistula. Together with their partners, Fistula Foundation provides surgeon training and surgery for women suffering from fistula. The women helped are often social outcasts and too poor to afford the surgery, which has an average cost of $450.
"We are both thrilled and honored to have Steve join our team," said Kate Grant, CEO of Fistula Foundation, "Steve is dedicated to helping woman with fistula. He has deep and broad expertise that make him uniquely capable of strengthening the Foundation."
Dr. Arrowsmith received his undergraduate degree from Miami University and his M.D. degree from the Medical College of Ohio. He is a urologist by surgical training. Over the past 27 years, Dr. Arrowsmith's work in fistula has taken him to 16 countries in Africa and Asia. His interests in fistula are far-reaching—from full-spectrum fistula repair to surgeon training, clinical research, medical ethics of fistula care, patient advocacy, to building awareness of this traumatic injury.
"Fistula injuries vary widely, making them profoundly challenging to repair," said Dr. Arrowsmith. Despite the complexities, Dr. Arrowsmith remains inspired by the women he helps and dedicated to focusing on obstetric fistula.
"Once I got to know the women, I knew this was how I wanted to spend my career. I felt like I always got more than I gave just from having the benefit of knowing these amazing human beings," said Dr. Arrowsmith.
Dr. Arrowsmith considers Fistula Foundation to be a key player in his success as a fistula surgeon.
"Over the years I have been able to help women receive free care because of Fistula Foundation's support. I admire their efficiency and professionalism," said Dr. Arrowsmith.
"I know of no other organization that so exemplifies what donors appreciate most: transparency, accountability, and an unswerving focus on alleviating the suffering of women. So, I was amazed and grateful to be asked to join the team."
ABOUT:
Fistula Foundation is the world's largest nonprofit organization dedicated to treating fistula that does not receive government funding. Fistula Foundation works in partnership with 38 facilities in 19 countries throughout Africa and Asia. Since 2008, over 10,000 women have undergone treatment for fistula. As of 2012, the Foundation has invested $2.4 million in training surgeons, building operating rooms and equipping hospitals.
Fistula Foundation is continuously recognized by top charity watchdog organizations for financial accountability, transparency and discipline. Charity Navigator awarded the Foundation a four-star rating for eight years in a row—an honor that puts Fistula Foundation in the top 1% of charities. Other organizations that recognize Fistula Foundation as an exemplary nonprofit include CharityWatch, Better Business Bureau, Peter Singer's The Life You Can Save, Great Nonprofits and GuideStar.
More information about Dr. Steve Arrowsmith, Fistula Foundation, and the work they do can be found online at fistulafoundation.org.