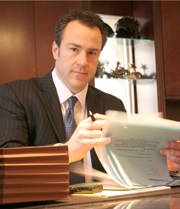 The company spent seven months trying to get an exemption from this safety standard before issuing this recall. It's a relief to know there haven't been any reported injuries because of the potential problem with these harnesses.
Southfield, MI (PRWEB) January 29, 2014
Auto accident attorney Jason Waechter is urging parents to check their child's car seat to find out if it is included in a massive recall announced earlier this month. Waechter also encourages parents to ensure car seats are installed according to new 2014 safety regulations.
On January 3, Combi posted recall information on their website regarding their Coccoro, Zeus 360, and Zeus Turn car seat models produced between 2007 and 2012. In a consumer notification letter dated "January 2014", Combi informs parents who purchased any of these three seats that they do not comply with Federal Motor Vehicle Safety Standard No. 213 (Standard 213) which covers child restraint systems. The issue with the seats stems from a small plastic button embedded in the webbing of the harness. Because the button isn't strong enough to meet the minimum breaking strength required in Standard 213, Combi says it could, "affect the overall performance of the child restraint to keep [children] adequately secured in the event of a crash."
Attorney Jason Waechter is not impressed with how Combi has handled the recall. "This is a huge recall, yet the information is not prominently featured on Combi's website," says Waechter. "On top of that, Combi spent seven months trying to get an exemption from this safety standard, instead of just doing the right thing for kids' safety and issuing a recall." Waechter is referring to a letter from June 20, 2013, published on NHTSA's website, which show that Combi was originally informed of the safety issue with these harnesses back in June of 2013. This document from November 27, 2013, shows that after the original notice, Combi tried to get an exemption from the safety standard, calling the harness problem "inconsequential to motor vehicle safety". NHTSA did not agree, denying the petition and requiring Combi to send a recall notice to owners.
Combi has not received any reports of injuries as a result of the harnesses. The recall process for these seats is expected to begin on or before February 6. "If you think you've got one of these car seats, visit Combi's website or call them," advises Waecther. "They're sending out free replacement harnesses that comply with the safety regulations, which is good… They should have done that seven months ago. It's a relief to know that there haven't been any reported injuries because of this issue."
The recall coincides with changes to NHTSA's car seat safety regulations. Starting in February, if the combined weight of the child and the car seat is 65lbs or more, the car seat should be secured with a seatbelt rather than using the LATCH system (Lower Anchors and Tethers for Children). "The LATCH system has been in use since 2002, and makes seats easier to install," says Waechter, "but once the maximum weight is reached, some manufacturers can't guarantee the strength of the car seat anchors, which could be a safety hazard. These new regulations should help keep kids secured in their car seats if the unthinkable happens."
Waechter blogged about these changes earlier this month, and provides other safety tips and important information on his website, http://www.michigan-no-fault-auto-accident.com.
Jason Waechter has spent two decades cementing his reputation for results. Over the years, he has specialized his practice to motorcycle accidents, and is known as The Motorcycle Lawyer by fellow bikers. Jason has won millions for auto accident victims and contributed significantly to safety education and accident prevention. He has entrenched himself as one of the nation's premier lawyers, recently being named to the Michigan Super Lawyers and Michigan's Best Lawyers.
If you or a loved one has been injured in an accident, call 1-800-708-5433 to speak with a lawyer who can help.