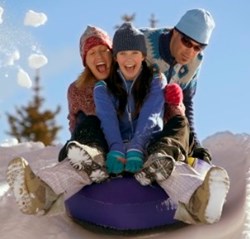 Snow tubing is pure fun on the snow with no apps needed.
Tampa, Fl (PRWEB) January 30, 2014
Sharing snow play adventures with your kids is one of the ways to add extra fun and special memories to family time. To facilitate planning TheFamilyTravelFiles.com has just expanded its Snow Places folder to include a more extensive list of best snow tubing places in the US.
Snow tubing ranks at the top of any winter family fun list adding active adventures to chilly days. The additions for 2014 include locations in California, Rocky Mountains, New England area, Mid-Atlantic region, and the Southeast making it easy to plan an active, winter school break family adventure.
"Snow tubing is definitely a multi-generational sport that combines a modicum of skill with snow fresh air, squeals of joy, and laughter. It is pure fun on the snow with no apps needed," says Nancy Nelson-Duac, Curator of the Good Stuff for the popular family vacation planning website.
Nelson-Duac attributes the growing popularity of snow tubing to the fact that parents and grandparents wish to share winter family fun and more active outdoor adventures with the younger generation. The obvious benefit she points out, "Snow tubing does not require lessons or practice to be fun. It's really a ready-made, surprisingly affordable, day adventure that makes a healthy family tradition."
New additions to the growing list of best snow places in the US offer terrific snow tubing conditions plus snow play areas, and extra activities including sledding, zip lining, pint-sized snowmobiling, dog sledding, and even a bob sled run. At the top of the new list California's North Pole Tubing Park at Mountain High, Wooly's Tube at Mammoth Mountain plus Gorgoza Park in Park City, Polar Coaster at Angel Fire, and Summit County's Copper Mountain Tubing Hill.
Two view the best snow tubing places in the US posted by region browse Snow Places lifestyle folder from the homepage at theFamilyTravelFiles.com.
About theFamilyTravelFiles.com. Founded in 1998, theFamilyTravelFiles.com is one of America's top-rated online family travel resources offering more than 1000 pages of timely family vacation ideas and trip planning information. The website specializes in displaying family vacation ideas, destination information for adults planning family vacations, advice about family trips, and family travel deals. To assist in narrowing searches, colorful vacation idea folders are visible throughout the website.