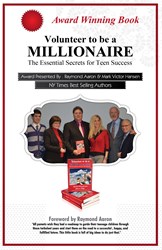 Binbrook, ON (PRWEB) January 30, 2014
Volunteer to Be a Millionaire - The Essential Secrets for Teen Success was written to teach teens how to be successful today and for their future, regardless of the economy. There are many people who are generating success despite the economy. Sandra Macpherson and Shawn Kelly learned from many of those successful people, like Stedman Graham, Eric Trump, Steve Wozniak and many more, to bring their success secrets and break it down for your teen in this book.
Many teens today do not know what they want to do for their future – most teens spend less than eight hours in their four years of high school with school guidance councillors for assistance with choices for post-secondary education for their future. With the average university degree costing $20,000 to $27,000 per year, one of the largest investment in time and money your teen will make, it better be the right choice! Are teens well prepared for that choice? Do they understand the consequences of this decision? Or like many others as described in the Canadian Maclean's magazine - September 2012, university students feel overwhelmed, anxious and depressed – becoming one of the fastest growing trend in universities and becoming part of the mental health crisis on campus?
With the growing post-secondary education debt (over $1 trillion in United States and $15 billion in Canada), along with many of the degrees earned not being worth as much, per the study from CIBC World Markets, there appears to be a significant gap in education to make sure your teen knows what post-secondary education they need, let alone how to be successful or having a planned roadmap for their future.
For more information on Volunteer to be a Millionaire – The Essential Secrets for Teen Success, please visit http://www.amazon.com/Volunteer-To-Be-Millionaire-Essential/dp/1481054686 or http://www.teensuccessprograms.com.
Contact Sandra Macpherson at 416-805-9750, Sandra.macpherson(at)teensuccessprograms(dot)com.