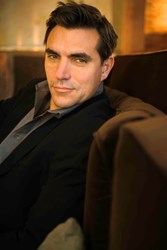 The Super Bowl provides the perfect opportunity to have fun and learn to get creative with snacks and drinks
New York, NY (PRWEB) January 28, 2014
Chef Todd English, the four-time James Beard award recipient, international restaurateur and author of several best-selling cookbooks, will join the Macy's Culinary Council for a pre-Super Bowl, Homegating Party celebration featuring live cooking demonstrations at the iconic Macy's Herald Square in New York City on Wednesday, January 29th.
The Macy's Culinary Council—an exclusive team of the country's finest chefs who serve to inspire the way Macy's customers shop, cook and eat— will welcome English, along with fellow Macy's Culinary Council chefs, Tom Douglas and John Iuzzini, for live cooking demonstrations featuring recipes from the council's Homegating Recipe Book. English will prepare Queso Nacho Fondue with Chipotle Chicken and Chorizo, and a Tuna Nicoise Soft Boiled Deviled Egg dish.
All of the chefs will be sharing their exclusive tips on how to create the perfect blend of snacks and libations to enjoy on game day.
"The Super Bowl has become a culinary event and competition in its own right—with friends challenging each other to see who can prepare the most delicious food for the big game," says Chef English. "The Super Bowl provides the perfect opportunity to have fun and learn to get creative with snacks and drinks. I think these events with Macy's are just as inspiring for the chefs as they are for the people who attend."
Guests in attendance who make a purchase of $50 or more at Macy's Home department will receive a $10 Macy's Gift Card, a special Homegating gift, and a copy of Macy's Culinary Council's Homegating Recipe Book that will be signed by each of the chefs.
Macy's Culinary Council Homegating Party takes place January 29, 2014 at 6 pm at the Macy's Herald Square in New York City. Seating is limited. To reserve, please call 1-877-55-MACYS (1-877-556-2297) from 10 am to 6 pm EST. Macy's gift card is valid from Jan 29 - Feb 5. Chefs will only sign recipe books after the demonstrations. One per customer, while supplies last, while time permits.
About Todd English:
Todd English is a renowned chef, restaurateur, author, entrepreneur, and television personality based in Boston, Massachusetts and New York City. He is a four-time James Beard Award winner and inductee into the James Beard Foundation's "Who's Who in Food and Beverage in America." He is the CEO of Todd English Enterprises which owns, manages and licenses over 20 restaurants worldwide including Olives (New York, Las Vegas, Mexico City, Bahamas), Todd English Food Hall (New York, Manila 2014), Todd English P.U.B. (Las Vegas, Birmingham), Figs (Boston, Charlestown, Kuwait, Nantucket and Macy's West Palm Beach), BlueZoo (Orlando), Ça Va (New York), Todd English Restaurant (Queen Mary 2), Tuscany (Mohegan Casino) and Isabelle's CurlyCakes (Boston). He has two sons and one daughter. For more information on chef Todd English and his restaurants please visit his website at http://www.toddenglish.com. Or, follow him on Facebook – http://www.facebook.com/ChefToddEnglish and on Twitter- @ChefToddEnglish