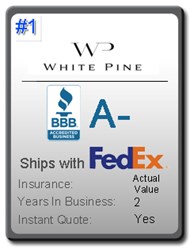 We've seen a huge increase in searches for users trying to find an online jeweler to sell.
San Diego, CA (PRWEB) January 29, 2014
A variety of industries have begun to use the Internet more and more in order to improve business practices. The Internet can allow for better communication and reaching more customers, along with many other positives. Some industries take a little longer to move online than others.
When people think about diamonds, the Internet probably isn't the first thing that comes to mind. More likely, it's an experienced, older man peering through a scope, examining a gem. It's a very traditional industry. Buying diamonds is one of the few things that most people couldn't imagine purchasing online, but that's rapidly changing. Not only are they buying diamonds and jewelry online, but they're selling it too.
While jewelry stores in the industry still believe that customers mainly like to shop for jewelry in-person, the process of selling back that jewelry, gemstones, gold, and other precious metals has seen great success with an online business model.
"We've seen a huge increase in searches for users trying to find an online jeweler to sell," explained Nelson Hamwey, manager of SellMyDiamondJewelry.com. "We started by discussing what to look for when buying diamonds online, but turned to the selling industry when we realized how many questions people had."
Similar to "cash for gold" services, online diamond buyers offer a similar free drop-shipping service to individuals who want to sell it through the mail. The promise is of higher prices due to reduced overhead, with tighter profit margins. Cash for gold review sites already exist, such as Top7CashforGold.com and TopOnlineGoldBuyers.com.
Pawnshops are often the first thought for many when it comes to selling jewelry, but so does the thought of getting low-balled. The local buyers can provide cash quickly, but online buyers are proving to be more convenient and pay much more than pawnshops. With very low overhead costs, the ability to reach more customers, and acceptability, online buyers are growing in this industry. The opportunity in this industry has led to many businesses attempting the online option, leaving jewelry buyer reviews to be very important to ensure that you are working with a reputable buyer.
SellMyDiamondJewelry.com provides reviews and ratings for online diamond buyers after having experience using their service. This excellent resource allows readers to compare the top online buyers' service process, along with what individual features they may offer to stand apart from one another.
"We're working with a number of online diamond buyers to improve our resources and information," continued Hamwey. "We hope to add more diamond buyers to our website as time goes on."
Having used each online diamond buyer and conducting a thorough review on various aspects of each company, readers are provided with excellent insight on what to expect with the online diamond selling process. Better Business Bureau ratings are also listed in the reviews, further proving the strong reputation of the highly ranked diamond buyers. WP Diamonds is the top ranked buyer on the website.
Visit http://SellMyDiamondJewelry.com to view the rankings and reviews, or to also provide any experiences you may have had with any of the online diamond buyers.