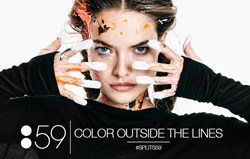 high-performance and high-fashion, merging everyday life with extraordinary athletic
Marina Del Ray, CA (PRWEB) January 30, 2014
Balanced contrasts define the Splits59 Spring/Summer 2014 collection - bold and delicate, fast and steady, high-performance and high-fashion, merging everyday life with extraordinary athletics. It is the beauty encapsulated in this balance that defines the Splits59 design philosophy. The collection amplifies fan favorite styles with unique design concepts and product innovation.
Comprised of two main concepts, the first, named the Expression Collection is inspired by the artistic ingenuity of Jackson Pollock. Serving as a clean white canvas, each of the 3 styles offered are hand crafted through the same "action" painting process called the Drip Technique, leaving no two pieces exactly alike. The Nova Capri, the Raquel Pant and the Harmony Pullover are splattered with rich black and bright pacific blue paint, in an ombré gradation from top to bottom. Second, the Liquid Python Collection features an innovative "liquid" finish shine over a compressive python printed performance tricot fabric. It highlights the understated value of chic tonal contrasts, with its futuristic textural effects. In a collection driven by two artistically independent concepts, Splits59 continues to reinvent activewear.
Innovation continues to be a driving force – bringing together the latest in technically advanced fabrics with sleek silhouettes. Splits59 is launching a two piece spin capsule designed for the cycling enthusiast. Features include: temperature reducing Coldblack® compressive performance knit fabric, reflective silver details, cooling powernet panels for enhanced oxygenation and UV protection fabric. Overall, providing a cooler, performance-enhancing ride, encouraging every wearer to go the distance. Strategic mesh details and "Cool Back" continues to be a strong theme throughout the collection. Intricate linear strap designs, geometric cutout shapes, and mesh blocked silhouettes promote superior breathability.
Founded by Jonathan Schwartz and Keith Peterson in Los Angeles, CA. Splits59, is the next step in the revolution of performance-wear for women; empowering them to find their edge, challenge the norms, and color outside the lines. Inspired by the beauty of sports and the power of intelligent design, product innovation is essential to the brand DNA. Quick dry sport performance fabrics provide the ultimate fit and comfort along with an obsession to design details. Splits59 caters to the woman who believes in the power of a split second.