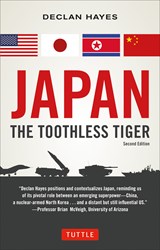 "A controversial book... well worth the read. Combative, argumentative and critical... it is a timely reminder of some of the darker forces underlying the Japanese 'success' story." - John Clammer, United Nations University, Tokyo
North Clarendon, VT (PRWEB) February 04, 2014
In the new preface, Hayes comments on the events of the last decade in particular the flash point of the Senkaku / Diaoyu Islands and China's relentless aggression towards Vietnam and the Philippines.
Declan Hayes draws on his experiences teaching in Japan for over a decade at Tokyo's Sophia University to give an insider's perspective on this topic, placing the Pacific situation in a political context. Hemmed in by mounting tensions with China over territorial disputes and facing nuclear threats from North Korea, what should Japan do? Should she rearm? Should she get the bomb? These questions make this second edition a must-read for anyone interested in Pacific current affairs.
About Tuttle Publishing
Established in 1948 by Charles Egbert Tuttle Jr. in Rutland, Vermont and Tokyo, Japan, Tuttle Publishing is the premier publisher of English language books on Asian culture. Today, Tuttle maintains an active offering of books on a wide range of topics, including Asian culture, Asian literature, Asian architecture, Eastern spirituality, gardening, cooking, martial arts, crafts, travel, health and wellness, and fine art for a worldwide audience.