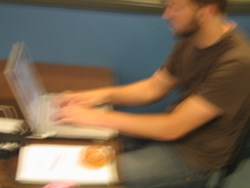 Boulder, CO (PRWEB) January 30, 2014
The most interesting programming competition isn't a hackathon at all, it's a code war. The Windward International Collegiate Programming Championship pits the top Computer Science Universities directly against each other in a world-wide competition.
What makes it so good is more than just the competition between schools. What makes it so good is:
1. The competition emphasizes strategy and problem solving rather than simply coding.
2. The problem requires a team to collaborate and communicate as they design their solution.
3. Students must make trade-offs. Given 20 hours a team could craft a great solution. They have 8 hours. So they need to figure out what provides the most bang for the buck.
4. It's a direct competition. Each team's A.I. competes in the same game against the other team's A.I.s.
5. It's freshman friendly (a great strategy implemented in simple code will beat a mediocre strategy implemented it superb code). Many teams are comprised of upperclassmen and freshman which provides great mentoring.
6. A higher participation rate by female students than most hackathons.
7. It provides Universities a chance to compete with each other academically rather than just athletically.
8. There is no human opinion judging winners and losers. The score on the board determines the winner.
9. The entire event is just 8 hours and held locally.
10. You're competing with the top students from the top schools, across the world.
11. We provide our competitors with a piece of functioning code, giving those new to programming a healthy start and those well experienced with a jumping off point.
And it's one of the best days at school for many students. At the end of the day the students are very happy, have a gigantic and well-earned sense of accomplishment, and have become better programmers.