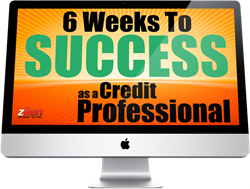 "It's an enormous challenge to get paid in the construction industry," says Wolfe. "Every construction project is a complicated collaboration between layers of parties, and this results in cash challenges – and solutions – for construction industry credit
New Orleans, Louisiana (PRWEB) January 30, 2014
zlien has re-launched a six week educational email series that empowers construction industry credit professionals to increase their revenue and decrease their risk. The free course – Six Weeks to Success as a Credit Professional – educates participants on big picture credit management topics that affect the construction industry.
"We have had hundreds of financial professionals come out of this course with the tools to improve their company's bottom line" says Scott Wolfe, CEO of zlien and the author of the course, of the re-launch. He continues, "We begin by stressing the importance of developing a well-crafted credit policy early on, and by the end of the series, participants will learn the value of surety tools and strategies for risk shifting."
The course has been improved and redesigned based on feedback from participants, thousands of hours of industry research, analysis of financial risk shifting practices, payment flow abuses, and accounts receivable funnel performance.
"It's an enormous challenge to get paid in the construction industry," says Wolfe. "Every construction project is a complicated collaboration between layers of parties, and this results in cash challenges – and solutions – for construction industry credit professionals that are very unique to their market."
The improved course has been stuffed with additional course materials, how-to guides, and templates available for download. These materials include a sample credit policy and credit application, lien policy, and collections policy, as well as an ebook on joint check agreements, and a 50 state guide to understanding contingent payment provisions in construction contracts.
"The addition of policy templates and white paper downloads will take the level of education on step further," says Wolfe.
Wolfe is a licensed attorney in six states. Prior to joining zlien, he practiced construction law. Wolfe is a recognized expert in construction credit and financial risk management and has been featured in Construction Executive's Risk Management, CFMA's Building Profits, Hanley Wood, Supply House Times, TED Magazine, The New York Times, and more.
"Providing a platform to control mechanics lien and bond claim compliance is only part of what we do at zlien. The other side of our mission is education. We have had a lot of success with this course in the past and now with the extra features participants [of the course] will go from good to great."
It is free to sign-up for the course and participants will receive emails twice weekly for a total of six weeks. The course Syllabus is as follows:

Weeks 1 – 3 Big Picture Credit Concepts: including traits of a great credit manager,
accounts receivable management overview, and an analysis of credit and collection policies.
Weeks 3 – 5 Legal Issues You'll Confront: including joint check agreements, pay-when-paid and pay-if paid-clauses, bankruptcy, and litigation.
Weeks 5 – 6 Solutions and Conclusions: addressing research on why customers don't pay invoices or pay applications in the construction industry, the financial risk shifting battle on a construction project, and the role of security instruments like liens and bond claims.
To register for the course visit http://zlien.us/1hFIGry.
About zlien™
zlien provides software and services to help building supply and construction companies reduce credit risk, and control receivables, through the management of mechanics lien and bond claim compliance. Founded by experienced construction attorneys, zlien is the leading publisher of mechanics lien and bond claim resources and analysis, and has led the industry in innovating credit risk management solutions by utilizing the lien and bond claim laws. Learn more about zlien at http://www.zlien.com.