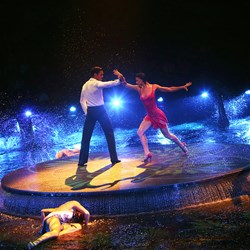 Las Vegas, NV (PRWEB) February 05, 2014
While the rest of the country is just trying to stay warm, things are hotter than ever this February in Las Vegas. From sexy new shows to romantic date nights, there are plenty of ways to enjoy Valentine's Day in Vegas. Here are Best of Vegas' Top 5 picks for February:
1. Of course, Valentine's Day is this month's big event; and as far as romantic weekends go, love songs by renowned country stars always set the mood. Appearing through Valentine's Day at Caesars Palace, Shania Twain performs all her crowd-favorite country hits, like "You're Still The One" and "Forever And Always" — just two of the world's best-selling country love songs. Meanwhile, husband-and-wife, Tim McGraw and Faith Hill also light up Las Vegas Valentine's Day with the exclusive Las Vegas show Soul2Soul at The Venetian. Country's First Couple is sure to spark a flame in any country fan. The couple's duets are some of country music's greatest love songs, from "It's Your Love" to "Just to Hear You Say You Love Me."
2. Meanwhile the bawdy circus known as Beacher's Madhouse is back in Las Vegas to turn Valentine's Day on its head. The provocative variety show fuzzes the line between performance and nightlife by breaking the barriers on what you think Las Vegas should be. Featuring unique performances by such little person tribute acts as "Mini Miley Cyrus" and "Mini Robin Thicke," as well as "Beacher's Babies," the show's sexy burlesque dancers, an assortment of contortionists, Oompa Loompas, and even some animal guest stars, a night at Beacher's Madhouse is a cornucopia of wild Las Vegas party experiences that have been enchanting celebrities like George Clooney, Miley Cyrus, Sandra Bullock, Katy Perry, and more. Valentine's Day is the perfect time to see what all the fuss is about and try something new in Las Vegas.
3. Culture is not lost in Las Vegas. Many visitors to Vegas may not know that the Bellagio even has its own fine art gallery, where traveling exhibits bring some of the world's finest art right to the Las Vegas Strip. This February before watching "O" by Cirque du Soleil with a Valentine's date, take her to the Bellagio Gallery of Fine Art as they welcome the new exhibit "Painting Women: Works from the Museum of Fine Arts, Boston." This stunning collection of paintings includes such renowned female artists as Mary Cassatt, Georgia O'Keeffe and Berthe Morisot. The Bellagio Gallery of Fine Art is open daily from 10 a.m. until 7 p.m.
4. Ready for a long Las Vegas weekend? President's Day is just around the corner, and it's right before Valentine's Day. It's the perfect chance to be romantic and make a weekend out of Valentine's Day. This year, the favorite place to celebrate is at the Cosmopolitan of Las Vegas' new performance space, The Chelsea, where Bruno Mars is playing two back-to-back shows Feb. 15 & 16. See this Grammy-nominated pop star fresh off his Super Bowl Halftime Show performance — one of the highest honors in entertainment! But to really make this Valentine's / President's Day Weekend special, couple the concert with a weekend pass (Thurs-Sat) at one of Las Vegas' hottest clubs with the TAO ALL-Access Pass.
5. There's no hotel more opulent than the Wynn Las Vegas, and no show that exudes romance quite the way Le Rêve - The Dream does on a nightly basis. This Valentine's Day show the sweetheart of your dreams how this popular Las Vegas show works behind the curtains in a new VIP experience. Offered exclusively through BestofVegas.com, Le Rêve - The Dream Backstage Tour takes guests on a tour of all the key technical elements of the show, including automation, rigging, lighting, wardrobe and aquatic operations. Guests on the backstage tour will even ride in the elevator where Le Rêve performers make their quick changes between scenes and explore the underwater area 27 feet deep below the stage.
About BestofVegas.com
BestofVegas.com is an Entertainment Benefits Group Company (EBG) and has been delivering Las Vegas travel fun since 2001. Negotiating the best rates on hotels, tours, and shows, we work directly with partners to help visitors save money and really explore Vegas. EBG operates more than 35 locations in Las Vegas with a customer service call center available seven days a week. BestofVegas.com delivers special offers, exclusive Cirque du Soleil backstage tours, and great deals on what makes Vegas so fun.