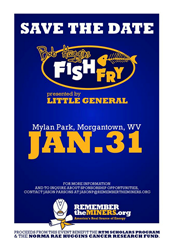 (PRWEB) January 29, 2014
Remember The Miners welcomes three major musical talent acts to the third Annual Bob Huggins Fish Fry Presented by Little General Stores. Jimmy Rose, finalist on "America's Got Talent;" Matt Jones, West Virginian country singer; and Bill Danoff, songwriter of beloved West Virginia song "Country Roads" will join Coach Bob Huggins during the Fish Fry to raise funds for both the Norma Mae Huggins Cancer Research Endowment Fund and the Remember The Miners' flagship charitable endeavor, the Scholars Program.
The Remember The Miners Scholars Program was created in 2011 to provide financial aid to miners, dependents of miners, and students pursuing higher education in the mining industry. Remember The Miners and the West Virginia Coal Foundation created the Scholars Program to support families of the West Virginia mining community. Awardees of the scholarship are miners, dependents of miners, or students pursuing higher education in the mining industry.
Get your tickets for the Fish Fry here.
Jimmy Rose brought awareness to the hard work of the coal miner during his audition on "America's Got Talent," where he sang his original song "Coal Keeps the Lights On" to unanimous acclaim by the show's four celebrity judges. After graduating high school, Rose went straight underground to start a job as a coal miner. He is a marine veteran and was deployed in Iraq in 2005.
Raised in the small town of Shady Spring, West Virginia, Matt Jones is best known for his riveting and soulful performance of an original take on "Country Roads." In 2008, Jones teamed with Producer Bill Deaton in the recording of his first album "Too Country," and again in 2012 for his second album, "On The Rocks."
Two-time Grammy award-winning singer/songwriter Bill Danoff will receive the Remember The Miners Legacy Award from Remember The Miners Honorary Chairman Coach Bob Huggins, and perform the song he wrote about West Virginia: Take Me Home, Country Roads. Danoff was last part of such an event when he performed with John Denver in 1980 at the opening ceremonies of Mountaineer Field.
For media inquiries, contact Sara Allen at sara(at)brightlineinteractive(dot)com. For sponsorship inquiries, contact Jason Parsons at jasonp(at)remembertheminers(dot)org.
About Remember The Miners
Remember The Miners is a public awareness campaign dedicated to telling the story of America's real source of energy: the coal miner. Remember The Miners builds valued partnerships to tell the story through events, media, and Remember The Miners Scholars Program.