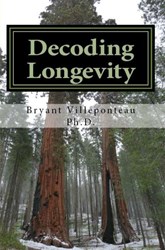 Ending Aging as We Know It
San Diego, CA (PRWEB) January 29, 2014
In "Decoding Longevity: Ending Aging as We Know It" (available at Amazon and Barnes & Noble), author and aging expert Dr. Bryant Villeponteau breaks down the aging process for readers, including the advancements in anti-aging science made over the last 20 years, and provides practical advice on preventing signs of aging and ensuring a long and healthy life. For readers looking to take personal charge of their health and longevity, Villeponteau also includes dietary, exercise and supplement advice that readers can implement in their daily lives.
"There are currently many articles on health and lifestyle changes, but with the informational overload people are often confused about the best strategy to slow their aging and preserve health," says Villeponteau. "This book summarizes the knowledge from the scientific literature and offers practical advice for preserving health and longevity."
"Trying to slow the aging process has been my main focus for the last 20 years as both an academic and biotech scientist," explains Villeponteau. "This book summarizes my surprising findings."
Written in accessible language, "Decoding Longevity" condenses all of his research into one volume. Villeponteau carefully explains how aging happens at all stages of life and how scientists have attempted to slow or prevent this process. As an active scientist in the anti-aging field, Villeponteau has intimate knowledge of the types of treatments and technologies that may extend life spans in the future and shares this knowledge with readers.
Villeponteau invites readers to visit him at http://www.centagen.com and http://www.lifecoderx.com.