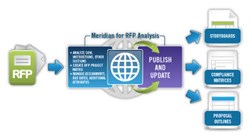 We use the time savings to our advantage and deliver a more responsive proposal
Amherst, NH (PRWEB) January 29, 2014
This distinctive proposal application uses sophisticated recognition algorithms to analyze Federal, State and Local Requests for Proposals (RFPs). The software automatically captures requirements, proposal instructions, evaluation criteria, and other references important to the development of a proposal.
A thorough analysis of a Request for Proposal directly ties to all of the essential outputs needed to develop a compliant and responsive proposal. Meridian for RFP Analysis 2014 does that, and much more. Features include:

identifying and compiling critical proposal requirements
creating proposal outlines to facilitate narrative development
creating compliance checklist and cross-reference matrices
automating the creation of writer's guides and annotated outlines
"Meridian for RFP Analysis is becoming a popular software application in the proposal community," says Lisa Payne, Co-Founder and President. She adds that, "This release streamlines the complex tasks of RFP analysis. It is easy to use, and the enhanced reports provide the critical tools needed for proposal teams to focus on the value-added aspect of proposal development such as crafting compelling and compliant content."
We are thrilled with the response to this new release and the success that our clients experience with this powerful software. "Using Meridian, the time savings is passed along. It gives the writers more time to produce a pink team document, and it gives more recovery time between the pink team and red team review," stated one government contractor.
A trial version of Meridian for RFP Analysis 2014 is available at: http://xrsolutions.com/products/downloads/MeridianDemo.htm
About XRSolutions
XRSolutions LLC is the premier supplier of The Meridian Series, a proposal software solution designed specifically for those responding to Federal, State and Local RFPs. Our customers include many top defense contractors, engineering firms, and telecommunications and solution providers.
The Meridian Series is solution designed to streamline the process of managing the resources and information required to develop complex business proposals. Services include training, business process improvement consulting, and Microsoft solutions deployment.