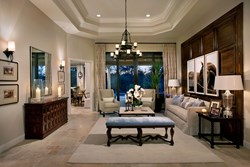 "To have nearly 600 sales across our communities is astounding," said Stock. "It is perhaps even more impressive that we were able to close 434 homes. Our inventory home program is a huge hit with the market in both Lee and Collier counties."
Naples, FL (PRWEB) January 28, 2014
Stock Development 2013 year end report revealed soaring sales, expanded construction and numerous awards and accolades for its work throughout Southwest Florida.
According to Brian Stock, CEO of Stock Development, the company closed the year with 44 December new home sales worth $24.32 million. That is a 57.1 percent increase in homes and a 41.9 percent increase in dollar volume over December 2012.
For the year, there were 579 new home sales worth $342 million, a 43.7 percent increase in contracts, and a 77.4 percent increase in dollar volume over 2012.
"To have nearly 600 sales across our communities is astounding," said Stock. "It is perhaps even more impressive that we were able to close 434 homes. Our inventory home program is a huge hit with the market in both Lee and Collier counties."
The value of the homes closed was $216 million. This was a 21.6 percent increase in the number of closings and a 44.1 percent increase in dollar volume over 2012.
The feather in the cap of a successful 2013 was earning Builder of the Year honors from The Collier Building Industry Association. Stock received the award at CBIA's annual Installation Banquet in December. It marks the second time in five years that the company has earned the award.
One of the area's most respected builders, Stock was named on BUILDER 100 list of top builders nationwide. The company was also recently nomimated as Business of the Year by The News-Press and CEO, Brian Stock, was named the Entrepreneur of the Year by Tampa-based Business Observer. Stock has built more than 3,500 new homes throughout Southwest Florida.
With new home sales this strong, Stock plans to expand its inventory home program in 2014, providing homebuyers the opportunity to move in this winter season. They begin the year with 325 homes under construction across nine Southwest Florida communities.
Stock operates throughout Collier and Lee Counties and offers a residential design for everyone. They have over 150 inventory homes, completed or nearing completion, including flats, townhomes, casitas, coach homes, twin villas, several series of single-family homes and custom-built estate homes. Prices range from the $170s to more than $7 million in communities renowned for their exceptional lifestyle amenities.
"We have just five homes left at Black Bear Ridge and our Mediterra home are sold out," said Stock. "In addition, Lantana, a single-family home neighborhood in Olde Cypress, is over half sold since its release ten months ago and we have seen a recent surge in sales at Fiddler's Creek."
With 60 furnished models on display the 2014 winter season, homebuyers can tour professionally decorated single-family and multi-family homes in styles as diverse as 1,200 square foot flats to 5,000-plus square foot estate homes. The work of more than a dozen interior designers are on display in Stock's models.
Black Bear Ridge features extraordinary lifestyle options with a beautiful lakefront clubhouse and pool. It is priced from the $300s.
At Olde Cypress, Stock has five beautifully-furnished models open in Lantana, the final neighborhood being built at this elite country club community in North Naples. The models are available for sale with a 5 percent leaseback. In addition, several inventory homes are available. Lantana is priced from the $400s and a golf membership worth an additional $25,000!
The company has two furnished models at Treviso Bay in Naples. Treviso Bay's18-hole TPC/PGA designed championship golf course includes a driving range, practice pitch and hand-mowed putting greens. Priced from the $700s, most homes purchased from Stock includes a membership to the TPC Golf Course and includes $15,000 towards options and upgrades for a limited time.
Quail West has more than a dozen model homes available for viewing. One of Southwest Florida's most exclusive clubs, the private, 1,180 acre oasis in North Naples was named recipient of the Collier Building Industry Association's coveted Sand Dollar Award for Community of the Year in the Average Home Over $1,000,000 category, as well as the Lee Building Industry Association's Community of the Year Award. Two championship golf courses designed by Arthur Hills join the stunning 70,000 square-foot Grand Clubhouse. Prices begin in the $700's.
Stock is building in three Villages at Fiddler's Creek - Isla del Sol, Mahogany Bend and Majorca Villages. Located just off Collier Boulevard, Fiddler's Creek is comprised of nearly 4,000 acres and is zoned for 6,000 residences. Stock has several inventory homes under construction and a furnished model open in Isla Del Sol. They recently completed a new Muirfield III model in Mahogany Bend. Prices begin in the $600s.
At Lely Resort, a total of seven neighborhoods of flats, townhomes, coach homes, twin villas, single-family homes and estate homes are offered with prices beginning from the $200s. Lely has earned six consecutive Community of the Year awards. Stock has more than 20 inventory homes across several neighborhoods. Lely homeowners have access to the Players Club & Spa and some of Naples finest amenities. The Players Club & Spa, which currently offers over 20,000 square feet under air, is nearing completion of a stunning two year expansion that will dramatically increase its size. There are three championship golf courses and two spectacular golf clubhouses. The final single-family neighborhood, Phase II of Lakoya,has been released for sale.
In Lee County, Stock is developing Paseo, which recently earned its 8th consecutive Community of the Year Award from the Lee Building Industry Association (BIA).
Paseo offers flats, townhomes and casita floor plans ranging from 1,200 to 2,080 square feet under air. Prices begin from the $170's with $10,000 of options and upgrades included on flats, townhomes and casitas. Twin villas and single-family models are also open in the Esperanza neighborhood. Paseo's 26,000 square foot Village Center includes a bistro, a pub, an internet café, a coffee shop, a 4,000 square foot fitness center and a 90-seat theatre. The free-form pool includes elaborate waterfalls and rockscapes, as well as a poolside gazebo serving lunch and refreshments.
Stock will also soon be launching new operations in Twin Eagles, where they will be selling single-family homes from the $500s in two neighborhoods of this stunning North Naples country club community.
Stock Development is located at 2647 Professional Circle in Naples. For more information, visit the Stock Development website at http://www.stockdevelopment.com or call (239) 592-7344. Stock Development is at http://www.stockdevelopment.com.
-end-