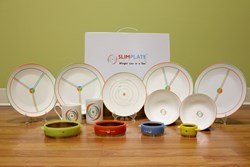 ...Successful weight loss involves long term weight loss...
Rock Hill, SC (PRWEB) January 30, 2014
Weight loss companies are finally starting to be required to answer the age old question many wonder while looking at the bottle, does this work? Many fad diets are being exposed this new year. Many are realizing that magic pill no longer holds magic and may be left with some dangerous side effects. Fad diets not only can bring unwanted side effects, they also only provide short term weight loss. With short term weight loss, the chances of rebound weight gain are high.
Successful weight loss involves long term weight loss and a lifestyle change. If one does not change their eating habits, then it will not provide ultimate results to a lasting, healthier weight loss. The issue many have with deciding the correct weight loss plan is why two physicians created the SlimPlate System. The SlimPlate System a simple concept of the portion control weight loss method.
The SlimPlate System is a 13 piece portion control kit that consists of plates, bowls, cups, and cutting rings. The plates are marked with colored lines to outline appropriate portions. The SlimPlate System allows many to eat the foods they love, while losing weight. This process changes eating habits that will provide the results that will last a lifetime.
Along with the SlimPlate System, the creators are also offer their new Online Weight Loss Program "Shaping the Perfect You" free for limited time only. The online weight loss program provides a step by step practical approach to effective weight loss from a weight loss doctor. Registration is simple, just fill out the form and attend the sessions. The next session is February 3, 2014.
Dr. Nwe is a Diplomate of the American Board of Obesity Medicine and is Board-Certified in Internal Medicine. She co-founded the Ace Medical Weight Loss Center and co-created the SlimPlate System with Dr. Grewal. Sandeep Grewal, M.D. is Board-Certified in Internal Medicine and was the recipient of The Charlotte Business Journal's Health Care Innovator Award for 2012, and also named to the Top Forty Under Forty List in 2013.
For complete information on the SlimPlate System, visit http://www.SlimPlateSystem.com.