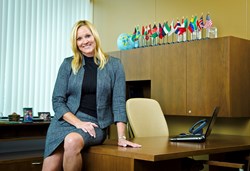 " I believe that we need at least 30% of women at each management level within the organization globally to ensure we will continue to grow and develop opportunities for women in our organization. - Lori Blaker
Rochester Hills, MI (PRWEB) January 30, 2014
In a recently released video, Lori Blaker discusses the seventh of the WEP principles while speaking to a group of students at Walsh College in Troy, Michigan. The Women's Empowerment Principles is a joint initiative between the UN Global Compact and UN Women.
When asked how TTi Global measures and publicly reports on progress related to gender equality Blaker responded, "TTi Global works with our HR teams across the company to monitor and track the progress of women in our organization into management levels. We track the progress quarterly and discuss status at least twice per year at our Senior Management Team meetings. That ensures the topic stays top of mind and we consciously work on developing and promoting opportunities for women in our company."
When asked what benchmarks TTi Global has established to quantify inclusion of women at all levels, Blaker commented, " I believe that we need at least 30% of women at each management level within the organization globally to ensure we will continue to grow and develop opportunities for women in our organization. Once you hit a population size of 30% the tide starts to shift and the diverse culture becomes more self sustaining. Achieving a target management population with at least 30% women leaders is the goal for our senior management team to accomplish!"
Blaker is actively involved with numerous educational and mentoring organizations including: Cornerstone Schools, Eaton Academy, Women of Tomorrow, Peace for Business and others. She encourages other business leaders to use the seven Women's Empowerment Principles as guide posts for actions that advance and empower women in the workplace, marketplace and community.
President and CEO, Lori Blaker heads of one of the fastest growing women-led organizations in North America. Her leadership skills continue to be recognized by the business community. In 2012 President/CEO Lori Blaker received the "Leader of Leaders" Award from Leadership Oakland. Under her leadership, TTi Global has ranked consistently among the "Top 25 Woman-Run Businesses in the USA" as recognized by the Women's Business Enterprise National Council.
#####
TTi Global provides staffing, learning, research and consulting solutions to industries across various sectors with automotive as a core focus. TTi Global oversees operations on five continents with offices spanning the globe, which include Australia, Brazil, Canada, Chile, China, India, Japan, Mexico, Peru, South Africa, Thailand, Venezuela, UK and most recently Afghanistan.
With a staff of over 2000 employees in international operations, they offer a wide range of services, tailor made to drive business goals, including business consulting, research, staffing, workforce development and learning solutions. TTi Global world headquarters are located in Rochester Hills, Michigan.
Recently I signed the "CEO Statement of Support." By doing this we have officially joined forces with companies around the world in the promotion of women's equality and women's rights everywhere.